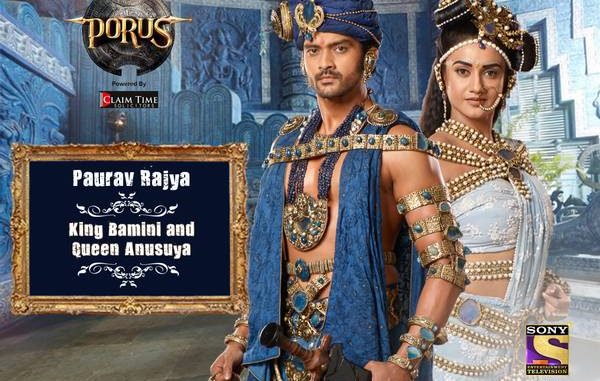 We all know about King Porus whose bravery and courage have been documented in the Greek history narrating the Battle of Hydaspes where he fought against Alexander the great. While his story post meeting the Macedonian king is known, his past story including that of his early life remains a mystery including stories about his mother and father.
However, the historical fiction Porus on Sony TV has been showing his early life along with that of Alexander. Although the drama showcases the historical aspect of Alexander's parents Queen Olympias and Philip II, it is also giving us viewers a chance to know the early life of Porus through his fictional parents – Queen Anusuya of Takshashila (Taxila or Taxiles) and King Bamni of Paurav Rashtra.
Here we share everything about Queen Anusuya, the mother of King Porus as portrayed in the serial Porus on Sony TV.
Anusuya Is the Takshashila Princess
Going by the serial, Anusuya is the princess of Takshashila kingdom situated between river Jhelum and river Indus. She is the sister of King Ambhi who is the ruler of Takshashila kingdom. Historically, although there did exist an Ambhi King in Takshasila we have no clue who was his sister or who was his father.
She Marries the King of Her Enemy Kingdom to Propagate the Idea of United India
Although Taxila and Paurava Rashtra shared a great animosity amongst each other, there are no records if any Taxila princess married a Puru King. However, here we have King Ambhi's sister marrying King Bamni of Puru Rashtra. Her only motive is to unite these two states for the greater good of the country i.e. Bharatvarsh.
Also Read: All About Paurava King Bamni – The Father of Porus
Porus – The Elder Son of Queen Anusuya and King Bamni
9 months after the wedding of Anusuya and King Bamni, she gave birth to a son named Porus whose maternal side belongs to Takshashila and paternal side belonged to Paurava. However, historically we have no records, data, folks or legends talking about this connection. In fact, the greatest enemy of Porus was King Ambhi of Takshashila who even sided with Alexander during the Battle of Hydaspes.
Also Read: Who was the Father of Alexander the Great – Zeus or Philip II?
Anusuya Is Very Patriotic and Far-Sighted
As far as her story is known through Swastik Pictures' narration, Anusuya is fearless and is ready to sacrifice anything for her country Bharatvarsh. This is the reason why her sole intention is to save the country from internal conflict so that none of the outsiders can harm the country. The way she understands the motives of the Persian Darius III and even exposing him in front of King Bamni proves her farsightedness.
Anusuya is Strong Willed, Patient and Very Intelligent
She isn't the one who can easily lose her heart. She is strong-willed and knows how to be patient for everyone's greater good. Her wit and intelligence are something that is worth appreciation. Her logic and understanding of politics and other political related aspects are also commendable.
Also See: Porus and Alexander Were Not Born on the same day!
However, we must remember that although King Porus did have a mother, the Queen Anusuya shown in the serial is totally fictional with imaginary qualities.