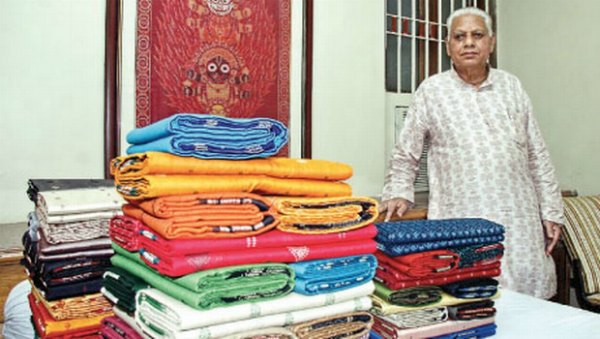 (This article on progressive development is originally written in Oriya by Mr. Subroto Bagchi, Chairman, OSDA in Sambad)
As  the honorable Chairman of Odisha Skills, the well speaker writer of this story and  greatest modern technocrat of our time has moved to many places of Odisha. Once in a blue moon, while visiting Boudh and Sonepur districts, he met Mr.Chaturbhuj Meher who is actually a leading Master Weaver of the state who is quite famous for designing the saree of Aishwarya Rai Bachchan worn during her wedding day. He has got many awards and accolades like the Odisha State Award twice,  and others such as Chinta O Chetana National Award (1992), Viswakarma Rashtriya Puraskar (1997) and Priyadarshini Award (2005) including  Padma Shri, in 2005, for his outstanding contributions to Indian handloom sector.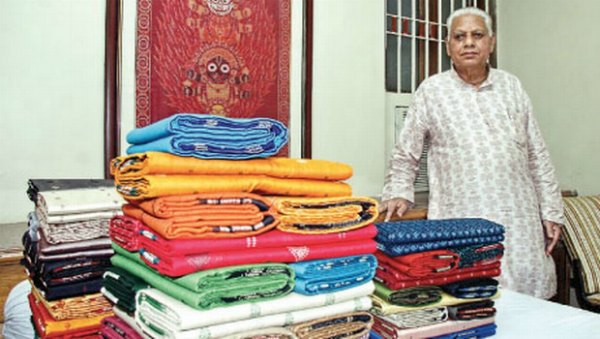 Image Courtesy: Indian Express Magazine
Mr.Meher was a school drop out and couldn't continue his formal education because of crude financial crisis that he faced during his early childhood days. So he thought of moving out of the state boundaries since there were no such opportunities like upskilling, reskilling and new skilling at that point in time. 
However, he got some niche skills in weaving because of his parental influence. His father too was a great weaver who was very popular once upon a time in Sonepur.As a Master Weaver Grade-I in WSC, Govt of India he has moved to different places like Bombay,Imphal and so on. During this period of struggle, he developed some good contacts with many plutocrats of these metro cities. He is now founder of the VAYAN VIHAR, where 100 looms are into a sustainable livelihood.
Also he has established  an institute called Handloom Research & Training Center at Sonepur. More than 10 thousand craft persons of younger generation get trained & certified under his guidance. Some of them have got National award.  A large number of educated and half-educated have been given employment and necessary skills in this domain. He achieved all these after attaining the age of 50.
The bottom line of this story is if we closely analyze his career span,then it can be divided into three progressive phases:
The first phase is full of struggles where Mr.Meher decided to connect to the rest of the world to learn necessary skills at work.

The second phase is his ability to be skill abled and skill

independent

.

The third one his passion towards entrepreneurship where he converted his passion into business lingo.
So it's just a mass appeal to our young generation who are not moving out after getting trained in different govt.certified courses. The progressive development of one's career and livelihood can be compared to those of wind and water. Both are never static. They have got an usual nature to move in this automation process.
It's now high time to Move and Go Kiss the World! It's just a battle against dangerous half knowledge.
Do Not Miss Reading: 
Skill India: A Panacea to the Wounded Indian Civilization 
Odisha Startup Policy 2016: Race against Eternal Time for Global Branding