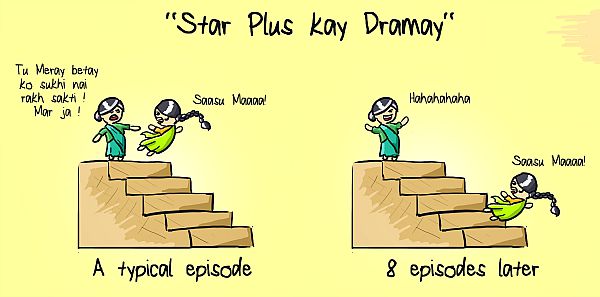 This post is written by one of our reader Nitya Geddam!
Do you know what does the Star Plus' tag line "RISHTA WAHI SOCH NAYI" actually signify? Well, let me tell you in Star Plus' own Terminology!
RISHTA WAHI = SAAS BAHU RISHTA
By 'Rishta Wahi' Star Plus mean nothing new but the  same old typical SAAS-BAHU drama since the channel created a stir a decade and half ago with all its Saas-Bahu serial including Kyunki Saas Bhi Kabhi Bahu Thi.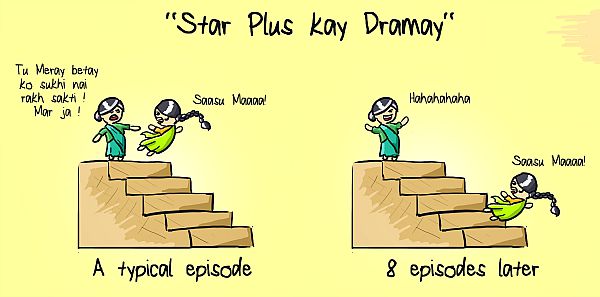 Image Courtesy: Jokofy.com
In fact, Star plus knows only this (saas-bahu) relation (RISTHA) in the entire world. It doesn't seem to grow up, despite new entries with much more valued themes. On the contrary, the channel simply wants to end any new Theme and transform it into their 'OLD RISHTA WAAHI' which is nothing but the SAAS-BAHU Saga.
SOCH NAYI = SOCH TO CREATE NEW PROBLEMS BETWEEN THEM
By 'Soch Nayi' Star Plus mean generating new thoughts and ideas on how to create differences between the saas and her bahu – How and when they can fight! How they can complaint about each other to their son & husband respectively! How they can make differences between son & mother and husband & wife! The channel's main objective is to somehow give a new life of problems by spoiling the saas-bahu's good RISHTA.
New Concepts are Transformed Into Old Themes
Recently, this has been applied to almost all the recent shows which although started with new concepts and themes but ended up being a Saas-Bahu drama. 'Nisha Aur Uske Cousins', 'Dosti Yaariyan Manmarziyan', 'Badtameez Dil' and 'Tere Sheher Mein' have all been victims of this ideology of Star Plus.
They have/had simply spoil/spoiled these shows by introducing the same old story. i.e the saas-bahu drama. While, they ended Dosti Yaariyan Manmarziyan despite fans loving it, they have ruined 'Tere Sheher Mein completely' by showing a young carefree girl Amaya suffering at the hands of her illiterate Saas. We hear Badtameez Dil too will be shown the door soon.
Star plus please grow up, and encourage good and new concepts. Change your mind set and give a meaning to your slogan. Give a message to the youngsters, who are future for our country, INDIA.
Do Not Miss Reading:
Why Is Star Plus Going the Doordarshan Way?
Dear Star Plus, Why Manmarziyan Is Going Off Air?