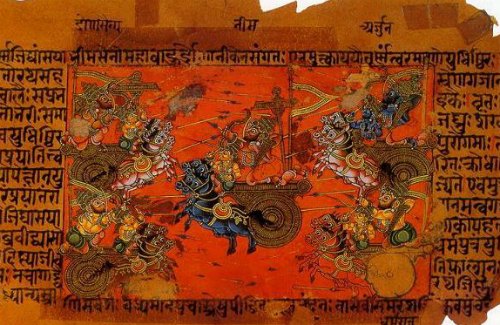 A lot has been said about the prowess of Surya putra Karna, however, not much emphasis is given on his personal life.  While, we are well versed with different wives of Arjun in Indian mythology Mahabharat, we hardly know anything about Karna's wife.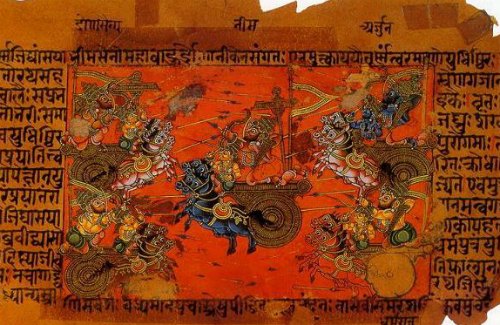 Image Courtesy: ATributeToHinduism.com via Wikimedia Common
Here we share information from the different books of Mahabharata which gives us ample information about Karna's wives:
Vrushali ~ The First Wife Of Karna
Vrushali or Vrishali was the first wife of Suryaputr Karn. Since it was an arranged marriage, the match was fixed by by Karna's father Adiratha. She was of the same caste as that of Karna's adoptive family. It is believed that Vrushali was the sister of Satyasen, Duryodhana's charioteer. She committed Sati on her husband's funeral pyre.
Together the couple had 8 sons and all the sons took part in the Mahabhart war.  Vrishasena was the eldest who was killed by Arjuna in front of Karna's eyes, while Prasena was the youngest who was slayed by Satyaki. The second (Chritasena), third (Satyasena) and fourth son (Sushena) were killed by Nakula. Arjuna also killed Karna's fifth and sixth born – Shatrunjaya and Dvipata. And the seventh born Banasena was slayed by Bhima in the Kurukshetra war.
Supriya ~ The Second Wife of Karna
Surya putra Karna was married to one more woman from the Suta clan. Her name was Supriya and she was Bhanumati's (Duryodhana's wife) friend. Though it is not known who was the mother of Vrishakethu, Karna's only surviving son who did not participate in the Kurukshetra war due to his young age, one cannot stop thinking that he might be Supriya's son.
After the war ended, Vrishakethu was trained and taken care by the Pandavas. Both, Arjuna and Krishna loved him dearly. He even accompanied his uncle Arjuna in his campaigns
Karna had a Kshatriya Wife Too
According to a novel written by Kavita Kane titled Karna's wife, Karna had a Kshatriya wife too. In fact, the book states that she was Karna's second wife. The book narrates the tale of a young princess Uruvi, the only daughter of the King of Pukeya who sees the handsome Karna for the very first time in Draupadi's swayamvar. Uruvi not only falls in love with this low caste man with great skills but also vows that she will marry the sutta King of Anga or remain unmarried forever.
This desire is of course against the wish of her parents, especially her mother who is Kunti's childhood sakhi. What's more, her mother even promised Kunti to give Uruvi's hand in Arjuna's hand in marriage to make the Pandavas strong. However, despite all this background, Uruvi follows her heart and marries Karna.
Also Read: Everything You Wanted to Know About Uruvi – Karna's Wife
Though Uruvi loves Karna very much, she is always suspected by Karna's other wives and brothers because of her noble blood. The book gives us a deep insight about Karna's valour, skills and the reasons why is Mahabharat's unsung hero. It also mentions how the involvement of her husband in the Draupadi swamvyar affected her relationship with her husband whom she loved so deeply.
Do Not Miss Reading:
Know the star cast of Sony TV's Suryaputr Karna
Know Shocking Facts about Sankatmochan Mahabali Hanuman in the Jain version
Editor's Note: NationalViews is a home for people with views and opinions that caters to the changing India. It is a place for the common men to articulate their views and opinions on any topic. A platform where you express and we publish. Mail us your opinion, views, and thoughts at editor@nationalviews.com and we will help you reach out to the masses.