Anti-Romeo Squads! Oh wait, why not Anti-Ranjha, Anti-Majnu or Anti-Loafer? God (By that I mean 'Ram' and only 'Ram'), how can you use Romeo when we have the desi version of him in India already in place – apna Ranjha oye!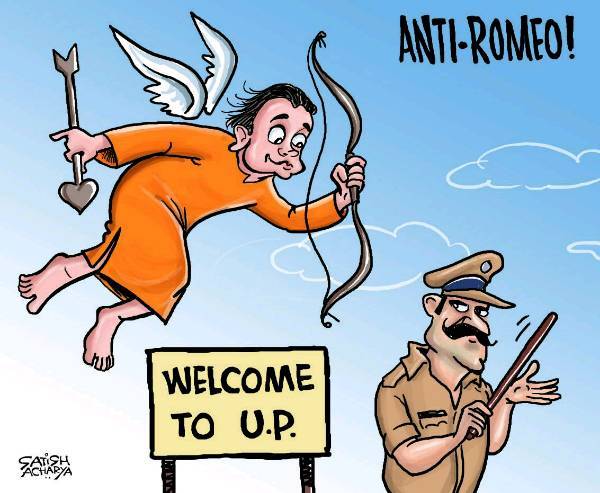 Oh-ho guruji why oh why you are giving all the SRK fans a chance to call the saffron brigade anti-national? The blind bhakts of him have still not forgotten that you compared him with the 26/11 neighboring terrorist!
Besides, the beef eating community – yea, the minorities whose population is rising manifolds in Western Uttar Pradesh is already accusing you of playing foul for deliberately not naming it as Anti-Ranjha squad.
After all, the classic Heer-Ranjha love story was written by a person of their community, Mr. Warris Shah (no no I sincerely do not intend to associate him in anyway with the honourable Shah, the President of your party!).
When your 'cells', 'gau rakshaks' and the 'social media brigade' tried to explain, they snapped them with his famous line,
"Naa adataan jaandiyan ne, Bhavein katiye poriyan poriyan ji (A man never abandons his habits, even if he is hacked to pieces)"
How I know? Well, I'm a social media lurker like 90% of us. High Five!!!! Oops sorry I mean BMKJ – Bharat Mata Ki Jai!
Back to where we started. Well, guruji, we all know your parent party as well as organization's obsession with Italy and Rome Raj (as termed by our current honourable head of the state in the past). No, no, it is not just about Mrs. Gandhi and his son – if that's what all the newly turned online saffron party Hindus post 2014 Lok Sabha elections are thinking! The pyaar-takrar (love-hate) association is beyond that!
Dalit Muslim Bhai Bhai: Divided by Creed, United By Cow
B.S Moonje (The President of the Hindu Mahasabha) and the mentor of RSS founder K.B. Hedgewar (Doctorji) who played a major role in forming the RSS ideologies (we all know) was highly influenced by the works of Italian fascist leader and dictator Benito Mussolini during his visit to Italy in March 1931. Vinayak Savarkar (Yes, the Veer as well as the patriot) too adored an Italian, Giuseppe Mazzini who fought for akhand Italy.
See, I'm telling you if you showcase more love towards Italy with Italian nomenclature like Anti-Romeo squads we are sure not just Mrs. Gandhi but even your trolls and those anti-national journalists won't leave any chance to mock you down. Remember how with the 56 inch chest your party openly boasted that Mrs. Gandhi had more connections with Italy than you guys? Oops!!!!
Chotti muh badi baat, but guruji, Mr. Romeo was in a consensual relationship with Ms. Juliet. Yea, I can understand how you missed this fact. After all you bachelors never indulged in these stuff and you never got time to research for the facts as you were sincerely getting up early at 4 am for your regular drills, prayers and parades.
I'm even aware that folks from your background have been called various names including Majnu, Ranjha, loafer and even pervert (bole toh tharki) post all the babas ruined the name of your biradri (both bachelors and gurus) with all those sex scandals.
Political Sex Scandals Involving RSS Pracharak & BJP Politicians
But trust me guruji, though Majnu and Ranjha come from the Romeo clan, you can certainly go with either 'Anti-loafer' or 'Anti-pervert' instead of Anti-Romeo squads. Not interested? Ok then perhaps Anti-tharki for the desi effect! #PurelyNational #NoBeingAntiNational