Somewhere in the Hinterlands of India – A Glance at the Indian Gau Community
The roaring floods in the monsoon had stalled the protest march of the 'Gau' community, who were vociferously objecting to the PETA endorsed Pseudo Liberals slamming of Government's resolution to provide preferential treatment to them. While #AccheDin has finally arrived for Gau community, they too aren't pleased with the Government. After all, the ruling government has still not taken seriously the Bill to make Cows, a national animal of India. Instead, they are focusing on some GST Bill to be passed this monsoon season.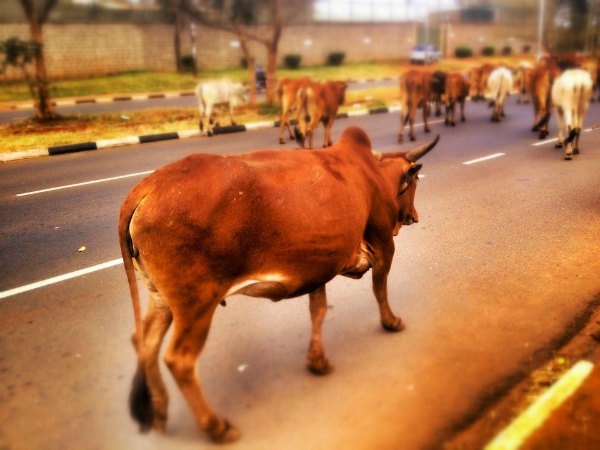 Image Source: Pixabay
Meanwhile in Lutyen's Delhi – Burkha Dutt In Action Yet Again
With the dust of intolerance finally settling down and gagging of BJP loud-mouths by Party High Command, #AccheDin for National media Was finally ending. National Issues like floods and inflation were clearly too common and recurring an issue for their interest or time. They were looking for something Exclusive, something bigger and better than Intolerance Debate. The prime channel editors were busy chalking out their game plans for the Monsoon season. They needed a story bigger than GST and fast.
Burkha Dutt had been lying low since her JNU story – where she made a hero out of "Kanha". The story failed to do the Collateral damage she anticipated however she had the last laugh in the exit of Smriti Irani. All the famous snubs would have healed over a glass of malt whisky reading the Spindrella article. But she needed to be ahead of her competition, specially that Ornob, who's loud and crass show was having an overbearing impact on her classy, finesse talk show. She needed to hit gold in TRPs.
Image Source: TheQuint.com
Talking of Gold, finally, Delhi CM "KhadakaroBawal" ji found a perfect scriptwriter, who had written an action packed potboiler for him, that was ready to take Lutyen's Delhi by storm. And what's more, the script writer had volunteered to teach his esteemed colleague Ashutosh a lesson or two in English. Far cry from the tried and tested screenplay of Shoe-hurling and Ink-throwing, script headlines read: "The prime minister of the country avenges Delhi CM's life". All now was needed was his PR team to socialize the concept and gain the confidence of National media to break the story before Monsoon session began….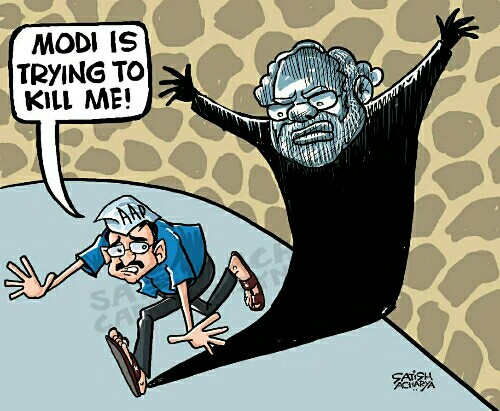 Image Source: @SatishAcharya via Twitter
Monsoon Dhamaka about to Unfold – Burkha Dutt Vs Ornob Goswami
Burkha had learnt her lessons well in Kanha episode when Khadakaro Bawal ji pulled back after showing initial support. She knew before the AAP story was out, she needed to go out exclusive. Unknowingly, Indian Army has always brought good luck for Burkha, be it her Kargil coverage or now – First one to break the Burhan Wani story on social media, she knew a hero out of a dead terrorist, was a story Bollywood would die for.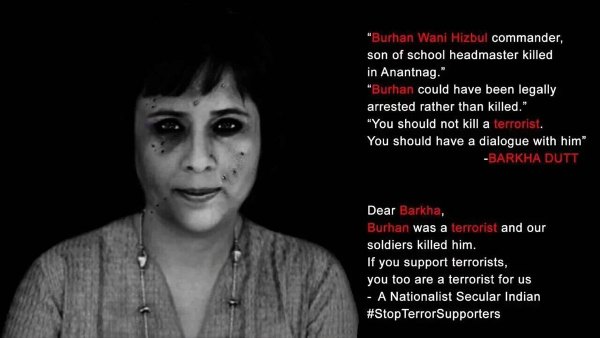 Image Source: thinkindiarationally.blogspot.in
What a living Kanha could not do for her, the grave of Burhan would fulfill her dreams. Kashmir was her backyard always and an ignited Kashmir meant double the fun. In a kurta, matching her black kohl, as soon as she tweeted she knew her work was done and rest the fire in the jungle would be spread by her trolls.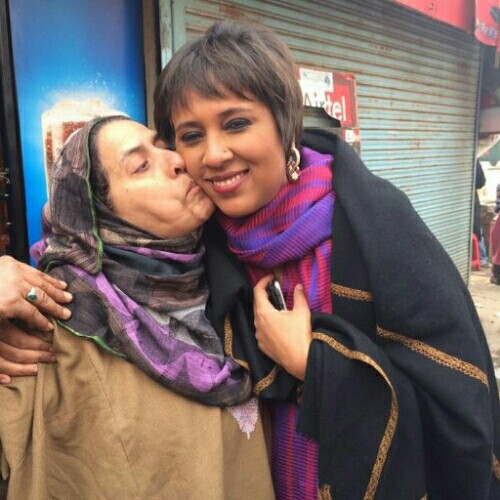 Image Source: @BarkhaDutt via Twitter
As soon as the news reached Ornob, his fury knew no hell. One who have clearly modeled himself on Sunny Deol and idolized Gadar and Hero, had sickening nausea for terrorists and Pakistan, unleashed a hashtag missile on his liberalized media counterpart's #ProPakDoves questioning them on their national interests. For Burkha, terrorists were somebody who needed to be condemned but also romanticized, socialized to make a story with a social impact that could be milked appropriately from both ends.
This time, she could not afford an angry Ornob to hijack her agenda and she launched a powerful direct counter-attack under the garb of freedom of press. She adopted the Bihar strategy of consolidating all opposition parties against Ornob on her side.
Somewhere in Pakistan – Hafeez Sayeed Praises Burkha Dutt
The mastermind of 26/11 Hafeez Sayeed, who just finished Season 6 of Game of Thrones, knew Burkha Dutt had all potential to be Cersei, in his scheme of things, especially given both were tormented by Ornob.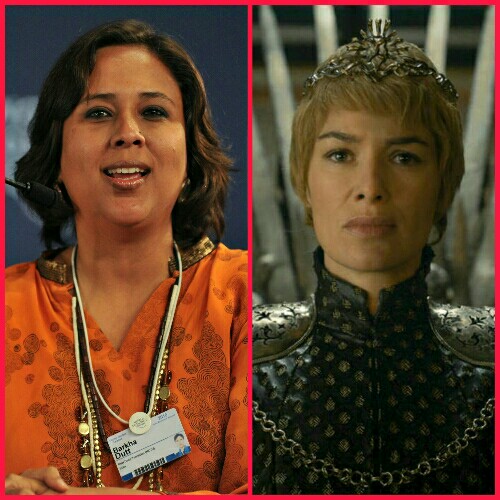 He was reminded of an old saying – Enemies Enemy is a potential friend and all he needed to was to enact role of Little Finger. An exclusive interview was about to unleash the Indian shores.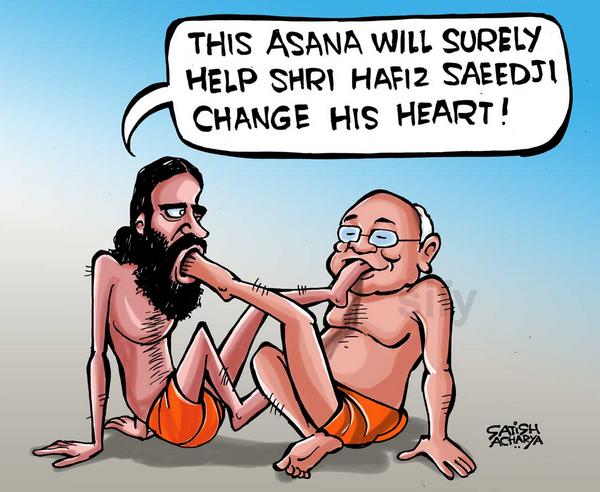 In other news, #AccheDin for India has finally arrived with Rujdeep, retiring from journalism and turning quiz-master, Bitch-wanti De writing columns on Economy to impress RBI governor and PM returning India after his overseas visits.
(Part 2- To be continued)
Do Not Miss Reading:
Bitchwanti, Burkha, Ornob – A Fictional Satire on Indian Politics & Media
Barkha Dutt VS Arnab Goswami: When She called him a Chamcha & he called her a Pseudo-secular!