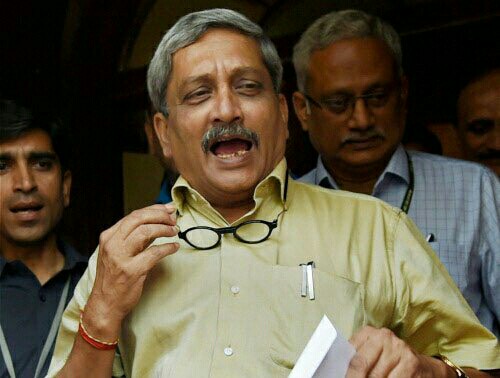 With full respect to our Armed forces and their sacrifices, I want to clarify some of the truth in front of the people of India that how the Modi-led Central Government is juggling with 'numbers' only, be it economic scenario or our soldiers martyred in war front or in a battlefield.
Our Hon'ble Defence Minister Manohar Parrikar quoted "14 jawans have attained martyrdom this year so far, adding, the figures reveal that if India lost one jawan, 5 terrorists had been killed against it. The ratio comes to 1:5, adding earlier it was "1:1.5" (News18). But same as PM Modi, Finance Minister Arun Jaitley, Textile Minister 'Dear' Mrs. Smriti Irani and many more are spreading only lies and falsehood. In fact, this has been the source for many BJP supporters, workers who are claiming that more terrorists and less soldiers were killed during the NDA government as compared to the UPA government.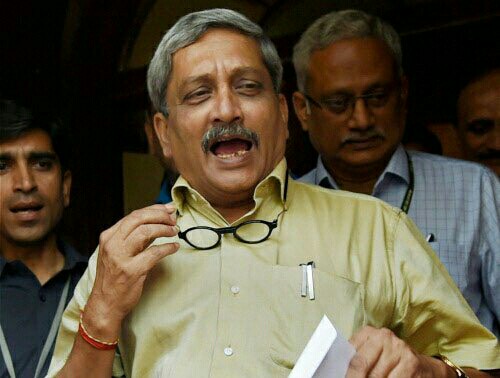 Now, let us count the number of soldiers martyred in the year 2016 that outbeats Manohar Parrikar 's number –
January – 7 Jawans including Lt Col Niranjan of NSG was killed in Pathankot attack dated 3rd Jan 2016. (NDTV)
February – 2 soldiers and five militants were killed in an overnight operation in Kupwara district of North Kashmir. Also, 2 jawans including an officer were injured in the encounter dated 14th Feb 2016. (Indian Express)
February – 2 Jawans were killed and 11 were injured when militants attacked CRPF jawans at Pampore on the Srinagar-Jammu national highway. The incident took place on 21st Feb 2016.(Indian Express)
March – 2 BSF personnel were killed and 4 were injured in Maoists encounter in Chhattisgarh's Kanker district dated 12th Mar 2016. (India Today)
May – 6 soldiers of 29 Assam Rifles were killed in the ambush laid by CorCom, a militant group targeting a party of CO which was returning after inspecting a landslide location in Chandel dated 23rd May 2016. The killing took place exactly a year after the biggest ambush on the military took place in Manipur, in which 17 soldiers were killed and 16 were injured of the 6 Dogra regiment (Indian Express)
June – 3 BSF personnel were killed and 4 were critically injured when militants ambushed their convoy near South Kashmir's Bijbehara on Srinagar-Jammu national highway dated 3rd June 2016.(The Hindu)
June – 1 army jawan and 1 militant were killed in a gun battle in Macheal area close to LoC in Kupwara district of Jammu and Kashmir. 5 other soldiers including a major were wounded dated 15th Jun 2016. (Deccan Chronicle)
June – 1 soldier and 4 militants were killed in an infiltration bid foiled by the security forces along the LoC in Kashmir dated 17th June 2016. (Indian Express)
June – 8 CRPF jawans were killed after suspected militants opened fire at a CRPF bus carryinG jawans in Pampore, Jammu and Kashmir dated 25th June 2016. (Indian Express)
July – 10 paramilitary soldiers were killed in one of India's deadliest attacks when suspected Maoist rebels ambushed in eastern Bihar state dated 19th July 2016. (AlJazeera)
July – 2 Army men and two militants were killed near LoC in Nowgam sector, around 120 km north of Srinagar, when the militants allegedly tried to infiltrate into the Valley dated 29th Jul 2016. (India Today)
Now if one calculates then the Jawans killed in 2016 sums up to 7+2+2+2+6+3+1+1+8+10+2 = 44.
There might be more Jawans killed but 44 is the number which I have analysed. I wish Defence minister Manohar Parrikar was right and less soldiers were killed, but truth is something else.
With all due respect to the armed forces, I salute all the martyrs, however, I would urge our Hon'ble Defence Minister Manohar Parrikar that he mustn't lie but tell the truth to the people of India. Mere blaming the Congress by putting the guns into the shoulder of Jawans will never help him to achieve anything. If Defence Minister was really serious about our Armed forces then he along with the ministry would have not betrayed our Armed Forces by side lining the implementation of OROP – One Rank One Pension.
Do Not Miss Reading:
Social Media Is Not An Authentic Source Of Modi Development Model For India
Nagaland & Kashmir: A Tale of Dubious Nature of BJP led Central Government