Amarjeet Sinha, Secretary, Rural Development in his statement to PTI dated September 06, 2016 claimed that – the roads in rural areas under the Pradhan Mantri Gram Sadak Yojana (PMGSY) were constructed at 70-75 km per day from 2011 to 2014, and increased to 100 km per day in 2014-16.
Further emphasizing that today roads are being constructed at 139 km per day. He even added, while the construction speed was 139 km in the first five months, 133 km will be constructed per day under the PMGSY in 2016-17. However, this 'shared data' is not at all true.
An RTI reply vide No – F-21013/2/2010-F&A dated 7th Sept 2016 (received in NRRDA on 16th Sept 2016) reveals the real story –
As per the RTI report, Implementation of PMGSY is being done by the State Government. Based on the length completed during 2016-2017 as entered on OMMAS by the states, the per day length constructed on 3rd October 2016 under PMGSY is as follows.
For all the states, the rate of construction of rural road is 123.09 KM per Day and for the selected particular states, rate of construction is as follows:
Arunachal Pradesh – 7.10 KM per Day
Assam – 3.31 KM per Day
Himachal Pradesh -3.94 KM per Day
Jammu & Kashmir -7.78 KM per Day
Manipur -4.59 KM per Day
Meghalaya -1.15 KM per Day
Mizoram -0.52 KM per Day
Nagaland -1.77 KM per Day
Sikkim -0.81 KM per Day
Tripura -1.56 KM per Day
Uttarakhand -5.81 KM per Day
So, going by the proofs it is clear that whatever the ruling Government has claimed is not at all true.
Also Read: The Story of PM Modi Calling an IAS Officer of Tripura in Night Is Made-up! Bhakt Tales Busted!
Interestingly, the same was even claimed by PM Modi in LinkedIn few months back. However, the actual rate of construction of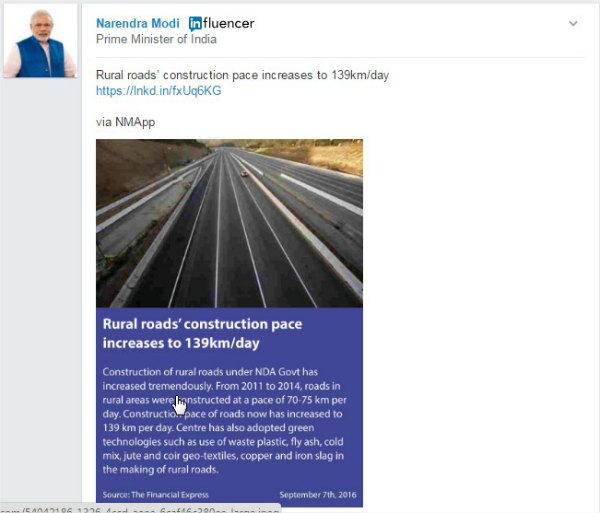 However, the actual rate of construction of the rural road is still 123.09 KM per Day and not 139 km per day as claimed by PM Modi and his ministers.