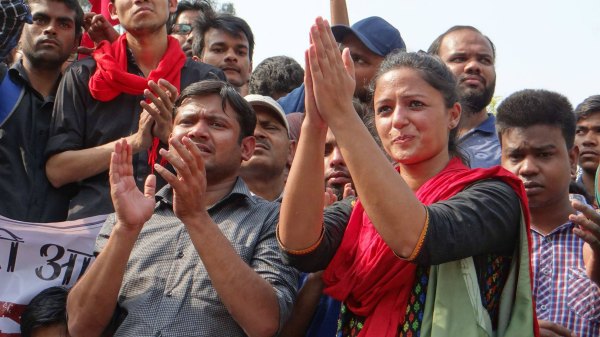 When Kanhaiya Kumar, the JNUSU President was arrested on the charges of sedition, Shehla Rashid, the Vice-President lead a student agitation demanding his release along with Umar Khalid and others. Ever since this incident of February 2016, she has become a popular 'Left' face, both, on and off social media. Known for being vocal against BJP and the Sangh Parivar, she is once again in limelight post the cold-blooded murder of Gauri Lankesh, who considered Shehla as one of her children along with Kanhaiya Kumar, Umar Khalid, and Dalit activist Jignesh Mevani.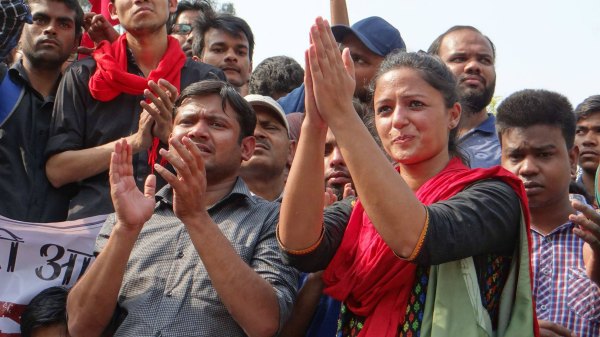 While her political views are quite known, here we share everything about her background – early life, education profile, personal life and more
The Early Life and Family Background
28-year-old Shehla Rashid Shora is a resident of Srinagar's Habba Kadal locality. She was born and brought up in this area of downtown Srinagar which is a hub of political turmoil from past 20 years. Shehla's mother is a nurse with SKIMS – SK Institute of Medical Sciences. She has an elder sister too. She moved out of her native place in 2012 after completing her engineering.
Education Qualification – She Was Already an IT Engineer before she took admissions in MA Sociology
After completing her schooling, Shehla started studying Computer Science and Engineering in 2007 at National Institute of Technology, Srinagar. Post completing her engineering, she took admission at IIM Bangalore in 2012. After completing her ten-week certificate course (India Women in Leadership Programme) in IIM Bangalore, she took admission in JNU in 2013 to study MA in Sociology. Following her post-graduation in 2015, Shehla started her MPhil in Law and Governance.
Social Activism and Shehla
Shehla was an active member of One Young Kashmir (OYK), a local youth organization that hosted awareness campaigns and workshops for young Kashmiris. Being active on microblogging platform Twitter, she widely promoted the workshops on the platform to attract the young generation on Twitter and other social networking sites. She has been popular as a social activist on cyberspace ever since.
Over the internet and as a panel guest, Shehla Rashid openly supported Kashmir's All Girl's band Pragash who faced the wrath of the society for performing live. She not only started the online campaign 'I support Pragaash, Kashmir's first all-girls' rock band' to mobilise support for the Kashmiri girls but also bashed the selective conservativeness of our misogynist and patriarchal society.
As JNUSU Vice-President, Shehla was AISA's Force to be Reckoned With
In the year 2014, Shehla contested the election for the Gender Sensitisation Committee against Sexual Harassment as a candidate of All India Student association, but she didn't win. Next, in September 2015, Shehla once again contested as a nominee for AISA but this time for vice-presidential elections of the JNU student union. By beating ABVP's candidate, Shehla not only became the highest polled candidate of that year but also the first Kashmiri girl to win a JNUSU election.
During the entire JNU sedition controversy, Shehla was the only office bearer who did not have any charges on her. Next, she led the protest march on the JNU campus to demand the release of Kanhaiya Kumar and others. More than 4,000 people joined her in this protest.
In November 2015, Shehla played a leading role in pioneering the verdict to "camp" at UGC for fellowships as she ran the protests to HRD Ministry to ask for an upsurge in stipends of the graduate student.
Controversies
Recently, at an event conducted by the Press Club of India, Shehla lashed out at a Republic TV reporter in the middle of her speech. Accusing the channel of being funded by BJP funds and covering up the murder of Gauri Lankesh, she asked the Republic TV reporter to leave the premises.  This, however, did not go well with the senior journalists of the media fraternity.
Humiliating reporters a shame, that too on pretext of protecting liberal ideas. PCI musn't let activists throw out reporters doing their job https://t.co/rLet4pfQjH

— Shekhar Gupta (@ShekharGupta) September 7, 2017
@Shehla_Rashid On one side you are protesting against the killing of a senior journalist, On other side you are killing freedom of press. https://t.co/NcVH19PbEO

— Sajid (@Ibne_Sena) September 7, 2017
what Nonsense!! The place didn't belong to @Shehla_Rashid . Press Club of India belongs to the press. How can she ask reporters to get out?! https://t.co/XnA1gewxsi

— richa anirudh (@richaanirudh) September 7, 2017
Earlier, in February 2017, a FIR was filed against her by Aligarh Muslim University Student Union Member Ghazala Ahmed for allegedly disrespecting and passing objectionable remarks about Prophet Muhammad (pbuh).
Also Read: Shehla Rashid Twitter Controversy: A List from Present to Past