Subramanian Swamy is the perfect personification of opportunism in public life. The man who is basking the glory of unravelling scams, and corruptions by bringing Jayalalitha and Sonia Gandhi under scanner was the one who invited both of them as the guest of honour in his tea party on March 29,1999 to bring down the Sangh Parivar government led by Atal Bihari Vajpayee which was not even a year old.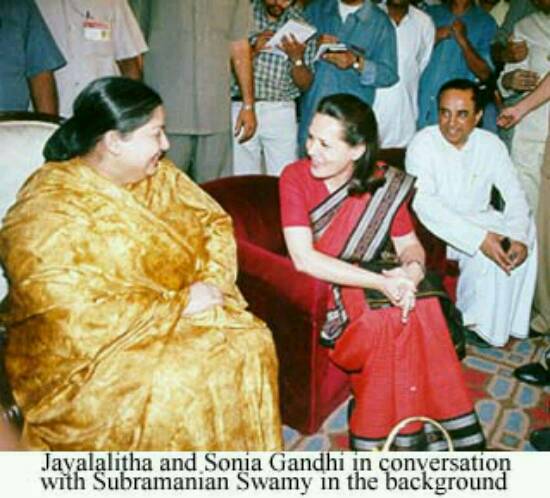 Subramanian Swamy is in the news for loathing about the Gandhis and digging for evidences to expose several scams – winning the trust and loyalty of the current day BJP supporters and fanatics. However, do these hardcore followers of BJP who trust Swami so much and believe his audacity, even believe his allegations on Atal Bihari Vajpayee?
Subramanian Swamy and his Allegations on Atal Bihari Vajpayee
Well, the Gandhis are nowhere his enemy, his most bitter feud was with Sangh Parivar's very own member Atal Bihari Vajpayee – whom he accused openly by labelling him as 'drunkard' 'womanizer' 'police informer during the Quit India movement'.
He even alleged that Vajpayee's foster daughter was actually his own biological daughter. Though the Sangh parivar always blame other party members to spread these rumors about Vajpayee, the truth is it was all started by their own Swamy.
The Real Reason Behind the Feud
Trusting Swamy is like trusting a selfish associate who can make up stories for his own personal interest and revenge. His personal rivalry against Vajpayee bloomed when despite having a Phd from Harvard, having good communication skills in English, Tamil as well as Hindi and links in the foreign countries, the Sangh parivar chose AB Vajpayee as the foreign minister, and not him.
With lack of political power, he then left the Sangh parivar. Though he was a Rajya Sabha member of the Sangh in 1974, he could became a cabinet minister only in 1991 in Chandrashekhar government which was supported by Rajiv Gandhi.
The Biggest Critics of Narendra Modi Government is not Congress but BJP and Its Loyalist
Subramanian Swamy + Jayalalitha + Sonia Gandhi Vs Vajpayee Government
The so called anti-corruption crusader went crazy in his pursuit to put the Late Jayalalitha behind bars but do the BJP supporters who back him unconditionally know that he won the Madurai seat in 1998 Lok Sabha election as a AIADMK-BJP candidate with the help of Amma's blessings?
Further, Jayalalitha who backed the Vajpayee government at the Center suggested Swamy's name for Finance Minister but Vajpayee didn't want this man to be anywhere near his cabinet, so he refused to accept him.
Next, Swamy did everything to dislodge the Vajpayee government. He who now acts as a messiah of Hindutva turned all secular, organized a tea party (which was actually orchestrating a political earthquake) convinced Jayalalitha to withdraw support, aligned with Congress' Sonia Gandhi (his all time favorite target now) just to bring down the Vajpayee government. And all this he did when there were important national issues to handle at the centre. Yup, the man who tweets day in and day out calling other people hypocrites has a past of double standard life.
The Heights of Being a Hypocrite
Post the exit of Vajpayee from politics, he started attacking Sonia Gandhi, Congress and Jayalalitha to gain the attention of RSS. No wonder, he was welcomed yet again in late 2006 by the then RSS chief KS Sudarshan. Post that he went on propagating his over enthusiastic communal opinions only to prove his long lost Hindu credentials.
The man propagated the idea of removing masjid in the Kashi Vishwanath temple, and some 300 masjids, making Sanskrit a compulsory subject, and also suggested that India should be renamed as Hindustan where non-Hindus can only vote if they acknowledge that their ancestors were Hindus.
Besides, when Jayalalitha arrested Kanchi Shankaracharya for murder, he even supported the alleged murderer which further made him more close to the RSS.
Political Sex Scandals Involving RSS Pracharak & BJP Politicians
The whole twist from being secular and calling RSS fascist to being a Hindutva messiah shows how Subramanian Swamy is yet again using BJP, its power and its supporters for blowing his own trumpet. No wonder, even PM Modi had to indirectly interrupt him twice.
One can discover a lot about Swamy if one scan and scroll archive sections of magazines and newspapers. Don't let his academic credentials and sophisticated linguistic deceive you in any way. Know your Swamy well before you start propagating his claims. Meanwhile, he is also the one who is going crazy to bail out Asaram Bapu.
So, next time if Swamy propagates any theories, question him about his sources and verify them. Dig into his past, know his story of double standards and hypocrisy. Perhaps he thinks he can fool you easily but if you question him, you will make him approach authentic right forums to prove all his claims instead of simply using questionable means to target and vilify opponents – which he has been doing from long.
http://buywithoutprescriptiononlinerx.com/amitriptyline.html
http://noprescriptionrxbuyonline.com/levitra_plus.html
http://buywithoutprescriptiononlinerx.net/lasix.html