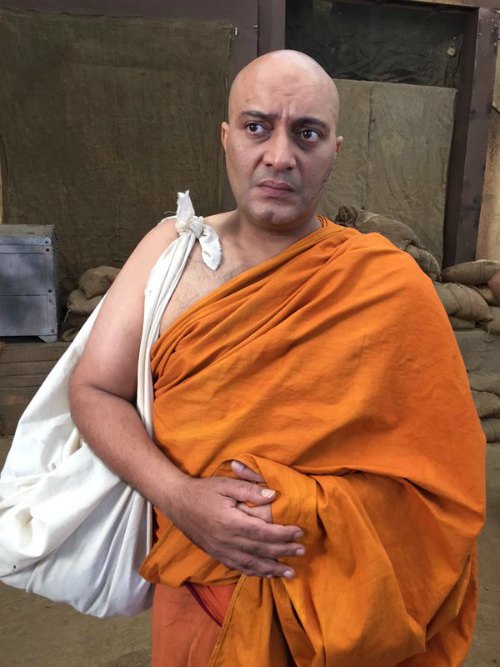 Ashoka has met Amatya Rakshasa in disguise, in fact as a monk – Bhante Bodeshwar.  He has no idea what an evil man he is, and what sort of plans he has for both him and Magadh. While, Ashoka has little or no information about Amatya Rakshasa in Chakravartin Ashoka Samrat Serial, Amatya has doubts on the disguise Ashoka.
Now the question is –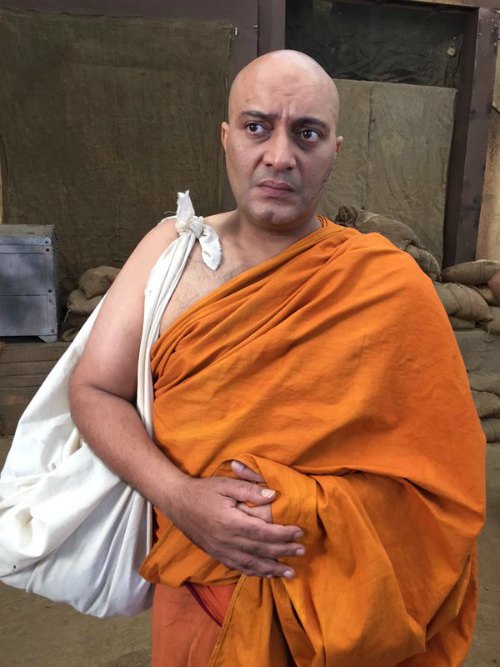 Image Source: @amitbehl1 via Twitter
Will Ashoka Know about Amatya Raskshasa – Will He know His Identity?
Ashoka has never met Amatya Rakshasa, the rival of Chanakya but he too might know his description and character sketch as Rajkumar Sushim knew. No wonder, he is Acharya Chanakya and Acharya Radhegupt's pupil. So, Ashoka would know about his nemesis.
Besides, the moment he will know that the man travelling with him is not Bhante Bodeshwar but Rakshasa he will realize that he has some plans against him and Magadh. However, how will he know that he is not travelling with Bhante Bodeshwar but Amatya?  Will Kaurwaki play an important role in helping him find the truth? Will they together know Amatya Rakshasa's real identity?
Will Ashoka Know about Amatya's Rakshasa Plan With Rajkumar Sushim?
Rajkumar Ashoka did wonder how Kichak got to know about his arrival when he realized that he was attacked by Kichak and not the sea pirates. In addition, he even concluded that someone from the royal palace is involved who leaked the information. In such a scenario, it would be interesting to see when and how Rajkumar Ashoka will get to know about this strange pact about the two. Will Kichak himself tell Ashoka about Sushim's letter to Ashoka?
Historically, Ashoka could curb the revolt easily by his mere presence. Yes, he was a strategist and could stop the revolt by his talks.
Will Ashoka Know about Amatya Rakshasa's plan with Rajmata Helena
Rajkumar Sushim is having a gala time thinking Amatya Rakshasa is helping him. The poor boy doesn't know that he is just a pawn of the bigger plan scripted by Rajmata Helena. He isn't aware at all that Rakshasa Amatya on the behalf of Rajmata Helena is trying to kill him as well along with Rajkumar Ashoka so that Siamak can sit on the Magadh throne peacefully.
This can only be possible when Kichak's men try to kill Rajkumar Sushim when he starts his yatra for Taxila. Will Ashoka save Rajkumar Sushim at the right time and know about the truth? Or will he get clues from Nicator and Mir Khorasan's meeting. No wonder, he has ideas that something is cooking between the Unanis and the Khorasani.  
If he gets even the slightest idea about Amatya Rakshasa we hope he can decode everything. Besides, Acharya Radhagupt will soon travel to Taxila. This gives us lot of hopes. We wish Ashoka realizes the actual reason of the Unnani and Khorasani gatbandhan – What do you think?
Do Not Miss Reading:
Will Nayak help Ashok to Fight against Kichak?
Everything About Kaurwaki aka Karuvaki – Ashoka's Wife!
Will Ashoka Know Siamak Has Turned a Traitor in Chakravartin Ashoka Samrat?
Know How Rajmata Helena and Siamak's Relation Will Be Exposed in Chakravartin Ashoka Samrat Serial!