Right from Episode 1 to Episode 8 of Sacred Games, there is something very mysterious about Zoya Mirza. A Bollywood actress living a dual life, she is scared, the moment she knows about the death of Ganesh Gaitonde (Nawazuddin Siddique). How is she connected to Gaitonde is a question that keeps both Sartaj Singh (Saif Ali Khan) and Anjali Mathur (Radhika Apte) on their toes.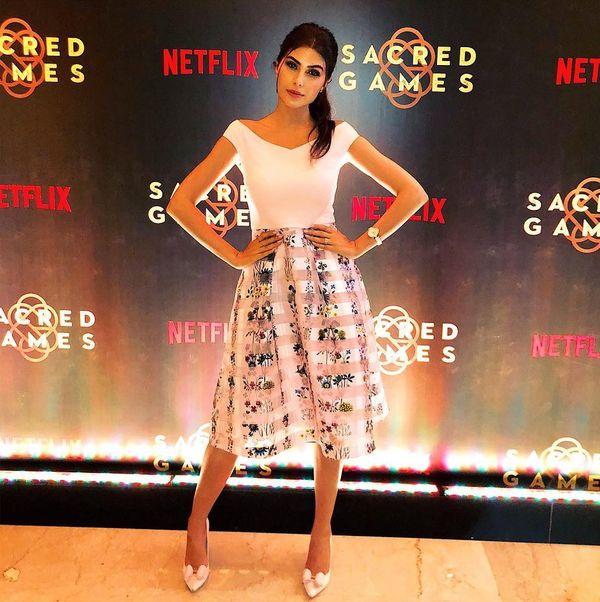 While the character is interesting, mysterious and quite ambitious, here we look into the real life of the actress who plays the role – Elnaaz Norouzi
Elnaaz Norouzi Is an Iranian Model and Actress
Just like her character, Elnaaz aka Naaz Norouzi is 26 years old. She was born on July 9, 1992 in Tehran, Iran. When she was 8 years old, her family moved to Germany. She started her modelling career at the age of 15. By the time she was 19, she travelled to Europe and Asia.
Naaz Came to Mumbai in the year 2012
She was hardly 20 when she moved to Mumbai to live her dreams. She has done several commercials with big Bollywood super stars. Yes, she did a Nerolac Ad with Shah Rukh Khan, Thumps Up Ad with Salman Khan and Sangam Suitings ad with Ajay Devgn. She was also seen alongside Salman in a photoshoot for Being Human collection.
Recently, She Was Seen in a Pakistani Film Maan Jao Naa
Ahead of her role in Sacred Games, she debuted in a Pakistani film Maan Jao Naa where she was seen playing the leading lady. Following which she was also seen in a Punjabi film Khido Kundi – a feature film based around hockey.
She Is Fluent in Seven Languages
Although coming from different nation, Naaz is quite comfortable acting in India and Pakistan because she speaks 7 languages including Farsi, German, English, French, Hindi, Urdu, and Punjabi. No wonder, she was quite fluent talking in the series that many of us felt that she is very much Indian.
Also Read: Lesser Known Facts about Kubbra Sait – The Kukkoo in Sacred Games
Elnaaz Norouzi is a Dancer Too
As a kid, Elnaaz learned traditional Persian dance. This is the reason why she picked up the Bollywood style dancing so quick and fast. Even in the series, she is seen dancing twice – one on stage in a charity function and other while she shoots for a film. Recently, she was seen in two music videos – Guru Randhawa's Made in India and Ranjit Bawa's Dillagi.
Her Family
Naaz is quite close to her parents and often post pictures with them on her social media profile. Her father's name is Amiri Tandiseto and mother's name is Shila Atashgah. She is the only child of her parents. Multi-talented, the Iranian beauty is also a skilled swimmer and shares immense love for football.
She is active on all three social media channels – Twitter, Facebook and Instagram!
Eager to know more about the other supporting characters of Sacred Games? Well, check out – Sacred Games Cast
Also Read: Sacred Games Season 2: Know the Metaphor & Meaning of the Episode Titles
Also Read: 5 Reasons Why Fans Are Disappointed by Sacred Games 2?