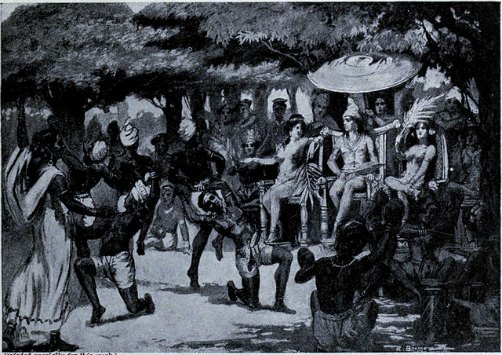 Helena Maurya in Chakravartin Ashoka Samrat serial is a cruel woman. All she wants is the Magadh ka singhasan. This wicked lady can go to any heights in order to see her dream getting fulfilled – She can conspire against her step-son Bindusar or even get him killed. But the question remains – Was the real Helena as unkind as this lady? Was she so manipulative? Did she really try to kill Bindusar? Did she hate Chandragupta Maurya, Magadh and the then India?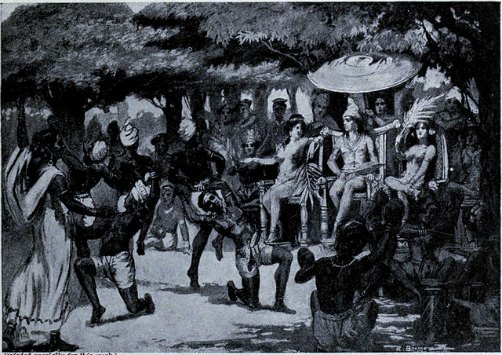 Image Courtesy: Hutchinson's Story of the Nation (Archive.org) via Wikimedia Commons
To clear all the confusion, here we bring certain interesting and lesser known facts about Devi Helena Maurya
Devi Helena and Chandragupta Maurya's marriage was love cum arranged
The marriage between Helena and Chandragupta Maurya, the founder of the Mauryan Empire was not forced. It was a love cum arranged marriage and both of them loved each other alike. It all started when Chandragupta secretly saw Lady Helena near the river Jhelum playing with her maidens when Chandragupta was passing by, on his horse. He was so mesmerized by the rare Greek beauty that he fell in love with her almost instantly.
Chandragupta Maurya then started sending messages to this Greek princess, and she too started reciprocating her feelings. This is how the two acquired mutual feelings for each other.
Chandragupta Maurya Waged a War against Selecus Nicator to Marry Devi Helena
When Chandragupta Maurya expressed his desire to marry Helena to Chanakya, he said it would only be possible if he wars Selecus Nicator – Helena's father and put pressure on him. At the start, Chandragupta acquired northern parts which were under the Nanda rule, and then he declared war against Nicator in 305. As expected Selecus Nicator was defeated by Chandragupta Maurya.
Post the war, Chandragupt called Selecus Nicator in a meeting on Chanakya's advice, and here's where he asked his daughter's hand. Chandragupt knew the Greek Emperor was hurt by his loss, and so he conceded various parts which were captured by him in the war including Afghanistan.
Selecus Nicator Was Not Ready For the Marriage, But Helena Convinced Her Father
Selecus Nicator, Helena's father was not ready for this marriage. Not because he was defeated by Chandragupt in the war, but because Chandragupta was a Heathen. A heathen is a person who neither follows the Greek religion nor acknowledges the same. Though Helena too was shocked that the person whom she has feeling is a heathen, she convinced her father to let her marry the brave and courageous Indian Emperor. This is how Helena and Chandragupta Maurya married each other.
Helena Was Blindly in Love with Chandragupt without Even Seeing Him
From the time Chandragupta saw Devi Helena, he regularly sent her messages through pigeon carriers. Though she had not seen him, she had formed his image in her mind through his letters. It was his thoughts, views and outlook that won her heart, and she started acquiring feelings for him even though she had not seen the mighty Emperor. She saw Chandragupt much later when Selecus Nicator was defeated in a war against Chndragupt and he entered the Greek Palace to ask Helena's hand.
Helena Learnt Sanskrit and Indian Music
Unlike the Colors TV Helena, the historical Helena Maurya loved India. What's more, this marriage made her happy. After her marriage, she even learnt classical Indian music and started taking classes to learn the Sanskrit language. However, their story was not those forever kinds because Chandragupta Maurya converted into Jainism, took sanyas from active politics and died four to five years later after his marriage to Devi Helena.
Do Not Miss Reading:
Ashoka : Rajmata Helena Will Now Fight With Chanakya For Siamak's Right!
Lesser Known Facts about Ankita Sharma aka Noor Khorasan
Interesting Facts About Siddharth Nigam aka Ashoka
Will Ashoka Find Chanakya and save Magadh From Helena and Selecus Nicator
Editor's Note: NationalViews is a home for people with views and opinions that caters to the changing India. It is a place for the common men to articulate their views and opinions on any topic. A platform where you express and we publish. Mail us your opinion, views, and thoughts at editor@nationalviews.com and we will help you reach out to the masses.