The serial Kundali Bhagya, the spinoff of Kumkum Bhagya is one of the most watched TV shows today. Everybody seem to be loving the plot of this Ekta Kapoor serial. No wonder, the Luthra brothers and the Arora sisters are quite an interesting thing to watch daily on prime time.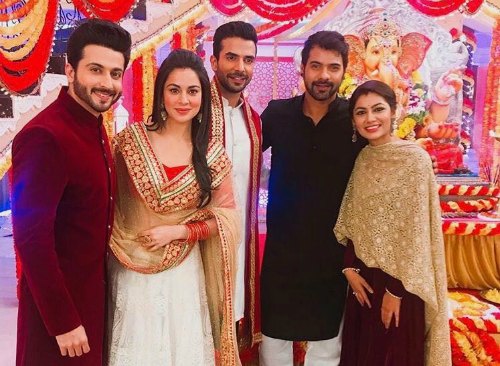 Many of our readers have been wanting to know the people behind the characters. So, here we share the real names and background of the entire Kundali Bhagya cast:
Shraddha Arya as Preeta Arora
The role of the elder sister Preeta is played by Shraddha Arya. She has done two popular Bollywood films Nishabd (as Ritu) and Paathshala (as Nikita Singh) along with few Telugu, Malayalam, Tamil as well as Kannada films. Besides, films she has been a regular face on Indian TV screens because of several TV commercials she did in the past including Pears and TVS Scooty. Shraddha in the past was casted in several TV shows including Tumhari Pakhi and Main Lakshmi Tere Aangan Ki.
Dheeraj Doophar as Karan Luthra
The role of Karan Luthra is played by Dheeraj Doophar famous as Prem Bharadwaj of Sasural Simar Ka. 32-year-old Dheeraj started his TV career in 2009 with Colors' Mata Pita Ke Charno Mein Swarag. He married his co-star from the serial in 2016. Before entering the tele industry, he did more than 100 commercial ads including Dabur Honey and Samsung Galaxy.
Manit Joura as Rishabh Luthra
The role of Rishabh Luthra is played by model turned actor Manit Joura. He was part of several campaigns by various brands including Wrangler and Godrej Hair Color. Manit was seen in two films in the past – 2010 film Band Baaja Baaraat and 2016 film Love Shagun. Besides, Bollywood films and ads, he was also part of several TV serials including 12/24 Karol Bagh, Ram Milaye Jodi and SuperCop vs SuperVillains.
Also Read: Kundali Bhagya: 5 Reasons Why Fans Want to See Preeta and Karan as a Couple!
Anjum Fakih as Srishti Arora
Anjum became a household name with her role in Tere Sheher Mai where she played the role of Rachita Mathur, the elder sister. Next, she was seen in a negative role in Ek Tha Raja Ek Thi Rani alongside Drashti Dhami. Here, Anjum Fakih is playing the role of the bindaas Srishti Arora, the younger Arora sister.
Also Read: 5 Reasons Why Fans Love Srishti Arora in Kundali Bhagya
Ruhi Chaturvedi as Sherlyn Khurrana
Model turned TV actress 24-year-old Ruhi Chaturvedi is seen playing the role of Sherlyn in Kundali Bhagya. She is originally from Rajasthan. Over the years, she was seen in several TV commercial ads including ICICI Bank, Kit Kat and Reliance Mobile. In the year 2010, Ruhi bagged the title of Miss India Worldwide and in 2016, the Maharani Gayatri Devi award for the upcoming face of the year.
Sanjay Gagnani as Prithvi Malhotra
The role of antagonist Prithvi is essayed by Sanjay Gagnani – a popular face on small screen. He has done several TV series including Savdhaan India, Encounter and Fear Files. However, he is well known for his role in Bairi Piya,  Hamari Devrani and Delhi Walli Thakur Girls. He has also done three Bollywood films – Raktbeej, Heroine and Freedom.
Neelam Mehra as Karan and Rishabh's Dadi
Remember Vandana Agarwal aka Vandy Maasi of Kahani Ghar Ghar Kii? Well, she is playing the role of Dadi here. Her real name is Neelam Mehra. Ms. Mehra over the years have done several Bollywood films such as 100 days, Shaktimaan, Tumhare Liye, starting from 1976 film Naagin. She was also seen in Rajshri's TV serial Who Rehne Waali Mehlon Ki.
Naveen Saini as Mahesh Luthra – Father of the Luthra Brothers
Naveen Saini is essaying the character of Mahesh Luthra, the father of Karan and Rishabh Luthra. He started his career in 2000 with a Punjabi serial Preet. Over the years he has done several Hindi TV serials such as Balaji Telefilms' Kahin Kissi Roz and Yeh Kahan Aa gaye Hum where he played the role of Raj Sabharwal.
Anisha Hinduja as Rakhi Luthra – Mother of the Luthra Brothers
The lady who essayed the role of Tia's mom in the serial is playing the role of Rakhi Luthra, the mother of Karan and Rishabh Luthra. Her real name is Anisha Hinduja. Here in the serial, she is playing a positive role unlike that in Ishqbaaz. If you remember, she was the one who was introduced as Tanu's mother in Kumkum Bhagya.
Pyumori Mehta Ghosh as Kareena Luthra – The Bua of Luthra Brothers
If you have seen 2016 film Sanam Teri Kasam, you'll identify her as the main actress' mother in the film. That's Pyumori Mehta Ghosh who is playing the role of bua in the serial Kundali Bhagya. Besides, Bollywood films she has been part of several serials including Iss Pyaar Ko Kya Naam Dun, Uttaran and Tere Liye.
Also Read: Who Will Convey his Feelings First to Preeta – Rishabh or Karan Luthra?
Which is your favorite Kundali Bhagya cast?