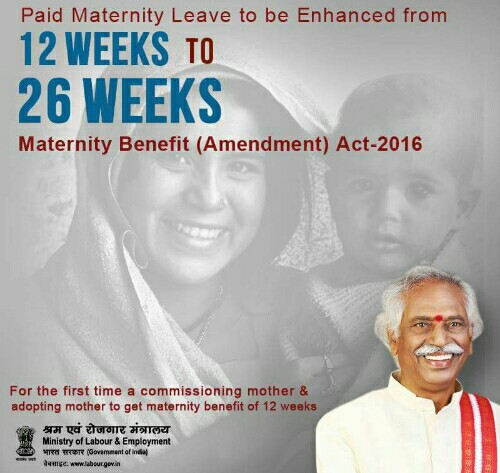 On August 11, 2016, Rajya Sabha passed Maternity Benefit Act Amendment Bill increasing the period of maternity leave from 12 to 26 weeks.
While the bill is yet to be passed in Lok Sabha, here we share everything about the bill that amends the Maternity Benefit Act, 1961.
The Maternity Leave Increases from 12 to 26 Weeks for Organized Formal Sectors
The rise of nuclear families is increasing in India and with that social and family support for a young parent is decreasing. This is the reason why more and more young and progressive women have to give up their career, which in turn is a huge loss to the society. This is the reason why maternity leave is increased to 26 weeks for all organized formal sectors covering women working in both public and private sectors. Also, one could not avail the leave only six week before the expected date of delivery. This has been changed to eight weeks after the amendment of the bill.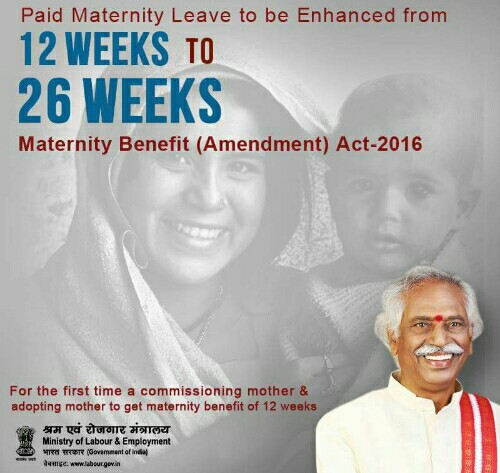 Women in the Unorganized Sector Won't be benefitted from Maternity Benefit Act Amendment Bill 2016
Although this is a progressive bill, only some women will be benefitted from this bill not all. At any given time there are 2.7 crore pregnant women in India and going by the amended bill only 18 lakh women will be covered as the amendment doesn't cover the women in the unorganized sector. So, the women who work from home (whether they are freelancers or work at small establishments like rolling bidis etc) and work without a fixed employer are left out. Yes, working women without fixed employer have been left out from the bill completely.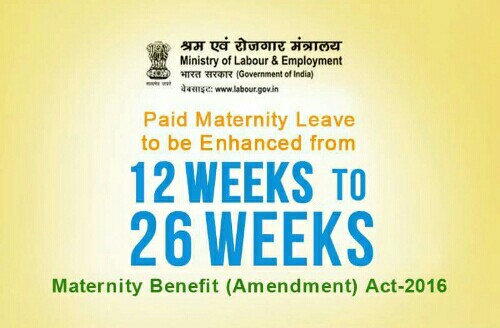 Interestingly, according to a report by the National Commission for Enterprises in Unorganized and Informal Sectors prepared in 2007, almost 96% of the women in India work in the unorganized sector. This means that only 4% of the women will be benefitted by the amended Maternity Benefit bill 2016.
For a Mother of Two, the Maternity Leave Remains Just 12 Weeks
26 weeks isn't for the mother of two or more. So, a mother of two will only have 12 weeks leave. So, while, the maternity benefit amendment bill 2016 favors the first and second child, it definitely penalizes the third child. Yes, the child will face discrimination and will also be deprived of dietetic benefits of breastfeeding. The mother can avail the leave only before six weeks of the expected delivery.
Surrogate Mothers and Mothers Who Adopt Will Get 12 Weeks of Maternity Leave
This amended bill also introduces maternity leave of 12 weeks for commissioning and adoptive mothers. Commissioning mothers are biological mothers who use surrogacy method for childbirth and adoptive mothers who legally adopt a baby below 3 months of age. Though the bill is a progressive bill, we wonder why the 26-week leave is not slated for mothers who have children through surrogacy and adoption.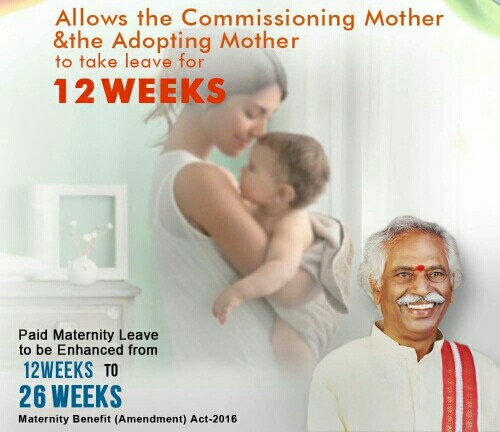 Option to Work From Home Post the Maternity Leave
Post the 26-week maternity leave, the bill introduces a provision where the employer may permit "Work from Home" for the new mother. This would apply to only those who nature of work allows them to work from home. The duration of "Work from Home" is something that the employer and employee can decide mutually.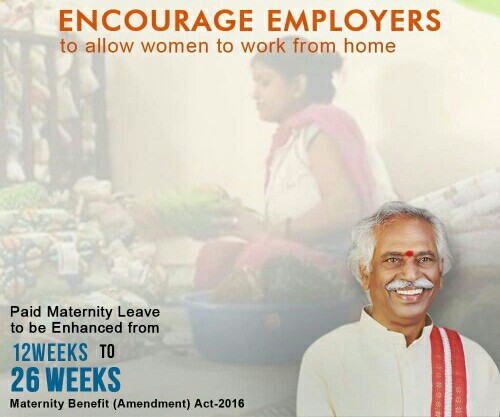 The Maternity Benefit Act Amendment Bill 2016 Also Introduces Creche Facilities
Organizations with more than 50 women employee will have to provide crèche facilities within a prescribed distance according to the amended Maternity Benefit Act. Mothers will be allowed 4 visits in a day to the crèche including her break time.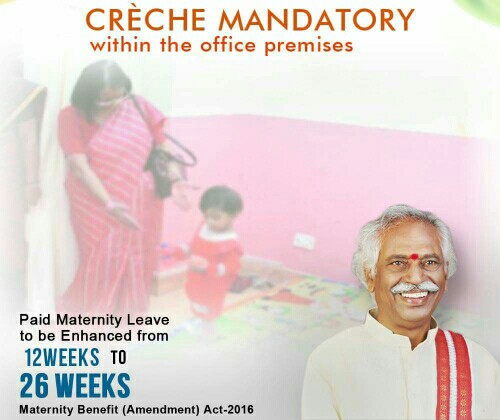 Image Courtesy: Facebook Page of Bandaru Dattatreya – Minister of State (Independent Charge) for Labour & Employment, Govt of India.
Do Not Miss Reading
Section 66A: Online Abuse and Offensive Messages Will Land You in Jail! 
Awww; An Online Destination For All Your Pregnancy Needs!
Land Acquisition Bill 2015 & The Second Amendment 
From Abla Naari to Women Entrepreneurs: You Need to Hear Their Success Story
 Editor's Note: NationalViews is a home for people with views and opinions that caters to the changing India. It is a place for the common men to articulate their views and opinions on any topic. A platform where you express and we publish. Mail us your opinion, views, and thoughts at editor@nationalviews.com and we will help you reach out to the masses.