PM Modi wanted to link Olympic Games with education and asked whether the Government of India has given an opportunity to the youth or not, adding to it he said just train the newly inducted soldiers, get them separated and they will for sure get 5/6-7 Medals easily.
Moreover, he said, we need a mindset to do that and mere getting 2-3 Medals in Olympics and showing it off will prove nothing and he said it in 2013 when he was Chief Minister of Gujarat and the video is available online.
2016 Rio Olympic Games : Modi Magic and the Indian Olympians
If anyone goes into the semantic of Modi's statement then perhaps everybody must condemn the Modi-led Central Govt and what happened in 2016 Rio Olympics. No doubt that our sportspersons always keep the tricolor high and this time around girls saved our honour. Those who couldn't get medals they too tried very well by sweating it out to seek medals for our country. But the truth is something different wherein in the London Olympics in 2012 India won 2 Silver Medal and 4 Bronze Medal but in 2016 Rio Olympics we only received 1 Silver and 1 Bronze Medal.

Firstly, PM Modi rushes to take the credit for Olympics Medal but he forgets what he said. PM Modi said "Plant 5 trees to celebrate a daughter's birth, they will fetch you the funds for her marriage". Thank God Parents of PV Sindhu, Sakshi Malik & millions of other girls in India weren't inspired by Visionary Modi. 
Secondly, Modi Govt halved Budget for most Olympics Sports. To know about TRUTH, have a look to images attached herein.
Thirdly, PM Modi himself made sure "National Cuisine" was available to our athletes & this "Anti-National" Athlete is complaining of No Water. Bolo Bharat Mata ki Jai. Dear Mrs. Smriti Irani tweeted too about "National Cuisine". Minister can go there celebrate and misbehave too and the most surprising thing is that the doctor who went to Olympics with Indian team was a radiologist who knew only medicine "Combiflame". Now if somebody reveals all such things they all were ‪Anti National Athlete.
PM Modi criticised UPA indirectly for the Olympics and the infrastructure associated to it in 2013 but the moot question arises that now that he is the Prime Minister of India then why he didn't implement the same mind set which he claimed in 2013. If we compare the Medals in London Olympics 2012 and Rio Olympics 2016 then it is better in London Olympics 2012 than this time when Modi is our Prime Minister.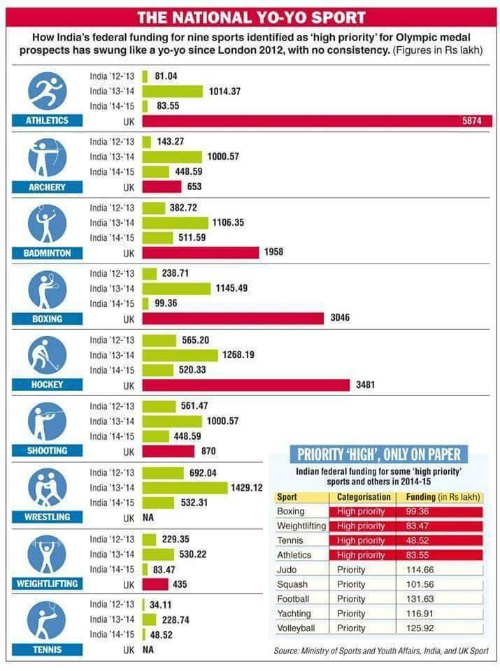 I would like to suggest PM Modi, not to claim anything when you can't provide what they actually need and stop defaming and insulting the post of Prime Minister of India by your rhetorics. If you are really serious then first you must start an enquiry and sack your misbehaved Sports Minister and of course Radiologist cum Doctor for our Champions.   
Do Not Miss Reading: 
Problems Faced By Indian Athletes before Rio Olympics: Every Indian Must Know Especially Shobha De
Gail Indian Speedstar – An initiative to Reinforce Indian Athletics