One of the deadliest scam ever in India, Vyapam Scam in two years has seen 44 mysterious deaths under suspicious circumstances. Too much of a coincidence? Well not exactly, something is seriously wrong in this entire scam as high-profile politicians, office-bearers and plenty of middlemen seem to have drafted and executed this task.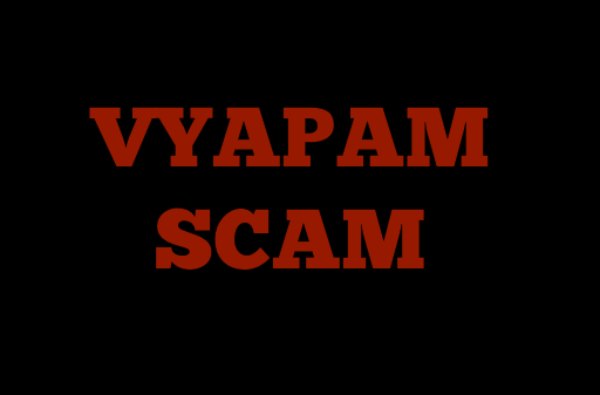 Here, let us see some of the Shocking Facts revolving Vyapam scam
The Scam Exposes Corruption in the name of Education, recruitment and Jobs
Incorporated by MP government, Vyapam is an autonomous body which has the responsibility of conducting competitive test for several professional courses including MCA, Pre-Medical and Pre-Engineering Test. Right from conducting the exams, to the final stage that is recruiting is done by this board. This gave the scamsters enough independence to bribe officials and manipulate the whole test. The entire process was done in 3 ways, they employed imposters to write the exam, manipulated the sitting arrangement where the selected candidate would copy from others, or asked the candidate to leave their sheet blank. Later the sheet was filled by the scamsters involved.
Lakshmikanth Sharma, the Former Technical Minister Was Arrested For His Alleged Involvement in the Scam
In mid-June, Lakshmikanth Sharma was arrested for his alleged involvement in the Vyapam case. He was then sent to police remand for 4 days. As soon as he was sent to police remand, he resigned from BJP. He is in Special Task Force custody till November 21 after fresh FIRs was filled against him
Even the Chief Minister of Madhya Pradesh Is "Termed" as an Accused in the Vyapam Scam
The AICC secretary general Digvijaya Singh, and other Madhya Pradesh  Congress leaders including Kamal Nath and Jyotiraditya Scindia have mentioned time and again that even the highest level of government is involved in this scam. Apparently, the opposition is pointing fingers at CM Shivraj Singh Chouhan, his wife Sadhana Singh. What's interesting is the fact that, even the main whistleblower's excel sheet (as alleged) mentioned the name of Chouhan.
The Whistle Bowler Prashant Pandey Feared For His Life as MP Police Threatened Him
The main whistleblower received threatening calls after he released an excel sheet which mentioned the involved of CM Shivraj Singh Chouhan. According to the accusations by Congress leaders Digvijaya Singh, Scindia and Kamal Nath, the sheet had 48 slots where the term "Chief Minister" was mentioned. However, it was later (as alleged) replaced into Minister (21 slots), Uma Bhartiji (7 slots)  and Raj Bhawan (18 slots). 
Next, Prashant feared for his life after he was getting threat calls from influential people. The Delhi court then ordered police protection for him in February. However, it was withdrew in mid June.
The Special Task Force had Lodged a FIR Against MP's governor Ram Naresh Yadav which was later quashed by High Court
The Special Task Force (STF) lodged a FIR against the governor Ram Naresh Yadav (earlier CM of UP) for his involvement in the Vyapam Scam. The governor faced allegations of giving the names of 5 candidates for recruitment as forest guards. After the probe Mr. Yadav was booked under Prevention for Corruption Act.
He, however on the pretext of being a Governor immediately moved to the High Court urging that the FIR was unconstitutional. His lawyer was Ram Jethmalani. The High court then directed the STF to remove Yadav's name from the FIR because being a Governor Yadav enjoys constitutional immunity from criminal proceedings. So, till he is in office (September 2016), nobody can act against him. It will be against the law of the land. This is the reason why the opposition is asking for his resignation
The Governor's Son, an Accused too died a mysterious death
Shailendra Yadav, an accused in the Vyapam case was wanted by the Special Task Force. However, he too like many other accused and eye-witness was found dead in his Lucknow bungalow on March 26 this year. His death too like others is mysterious though some unconfirmed reports states that it was due to brain hemorrhage.
The Home Minister of Madhya Pradesh has Denied CBI Probe in Vyapam Case
In spite of constant pressure from opposition and other political parties, Babulal Gaur, the Home Minister of Madhya Pradesh has ruled out CBI probe in the high profile Vyapam case terming all the deaths so far is natural and has no connection with the scam.
The recent death of Aaj Tak's journalist under mysterious circumstances has brought the case once again under radar. This scam is getting scarier day by day.
Do Not Miss Reading:
DMAT Scam: 7 Facts That Explains Everything About This Scam
Vyapam Scam: History of Controversial Statements by Babulal Gaur That You Shouldn't Miss!
The Biggest Critics of Narendra Modi Government is not Congress, but Bjp and its Loyalists
Lesser Known Facts about Sushma Swaraj, India's Firebrand Politician and External Affairs Minister
Lalit Modi Visa Controversy : Is Sushma Swaraj 's Action Really Condemnable ?