Even as India is all geared up to embrace and celebrate Diwali 2016, the celebration started a little early here with the surgical strikes that India conducted across LOC to eliminate terrorists and avenge the horrific Uri attacks.
While the Surgical strike carried out by the Army on Pak terror camps may have lasted few hours, the Surgical strikes thereafter carried out by fellow Indians on each other are still very much on. While history suggested that English people were responsible for divide and rule in India, English language now ensures the same all over again, and it all begins with – what would constitute as "Surgical".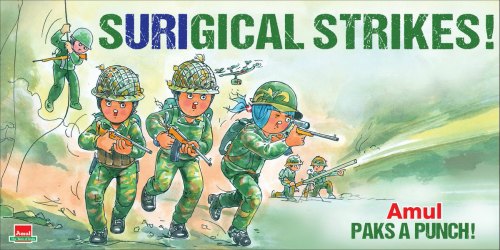 As usual, the lead theatre actor of National Capital, Kejriwal ji lead the debate, followed by Rahul Gandhi and local parties against the Govt each trying to extract an ounce from this Army's achievement post the current Govt. got the first mover advantage.
Last heard Modi ji tired of opposition, was planning a Dusshera party, where he would invite all parties to conduct a surgical strike on his effigy, at Ramleela ground while he would in person stick to Varanasi.
In our media arena these days, which is no less than political slugfest, all media houses has ganged up against Arnab Goswami (tired of his consistent TRP and trending Hashtags) and protesting his change of stance for Pakistan –
From " Doodh Maango ge toh Kheer Denge, Kashmir Maango geh to cheer Denge to Doodh maango ge toh Paani bhi nahi Denge, Kashmir mango geh toh Balochistan Le Lenge"
Poor me, even I was not spared from the Surgical attacks. In this case, my body clearly anguished at the fact that I failed to take a single sick leave during last one year, conducted an advanced surgical strike mid-air in my abdomen leaving me in devastating pain and gasping for breath on a flight.
No sooner did I reach hospital half dead, I was welcomed by the doctor, who gleefully declared that if I want to be relieved of my pain, they need to conduct a surgical strike on my kidney to remove the terrorists ( read stones) who have infiltrated my body. At end of it all,
At end of it all, i realized that Surgical Strikes by doctors are a successful business model that has been adopted by health care industry all in the name of patient welfare.
Bollywood, Surgical Strikes, and the Great Indian Democracy
Even as my kidney was in Mushkil, my estimate is it was little less than Karan Johar's, whose literally Ae Dil went in Mushkil, when MNS threatened to conduct a surgical strike on his movie by not allowing to release it.
Unlike my kidney, which may fetch few thousands or may be a lakh, Karan Johar realised his approximated budgeted 50 crore Dil, was way too precious to be sabotaged in this way. While for MNS, fake patriotism has been the way of life, the environment around became conducive as well.
The bone of contention here was a Pak actor, who had created a sort of hysteria and if i may say orgasm in the bedrooms of my fellow Indians (read woman) suddenly has also become a reason of orgasm of different kind to India is observing these days – Patriotism.
Also Read: Banning of Ae Dil Hai Mushkil reveals India has no actual Right to Freedom of Expression 
While Karan Johar would have happily agreed to play Simran to Raj of DDLJ, he was visibly wary of Raj of MNS party. Pre-empting trouble to his film release, Karan had earlier in the week underwent an Agni- pariksha of proving his patriotism through Kuch Kuch Hota Hain for India video.
Given that his competitor Devgan smartly played the opportunistic pseudo-patriotic card early in the day,  this forced attempt of Karan unlike his debut movie KKHH, failed to score at box office and in a way offended both – the Right Wings and Liberals ( both figment of the imagination of each other's mind).
When the central govt assured to settle the issue, little did the poor fellow knew, the settlement bill would approximately cost 5 crore that needs to be donated to Indian Army Welfare Fund. 
What worried was the sudden realization that his earlier runaway hit Kapoor and Sons, also had the same Pak actor in a lead role. What if Indian Govt. who is famous for retrospective tax charge him a retrospective bill of additional 5 crore. So much for love with Fawad Khan ( Oops as twitterati @naomidatta rightly mentioned He who must not be Named).
That's where the current govt. stepped in and assured Karan, they being the party with a difference  unlike, previous UPA govt. would only insist on the current bill of 5 crore being settled and a retrospective bill to be ignored. Last heard sanity prevailed when Indian Army unequivocally has rejected acceptance of any money raised through settlement (Read Extortion).
But despite all this, nothing is comparable to surgical strikes when it comes to the Presidential Elections of The United States of America. In one of the ugliest race to become POTUS, Donald Trump and Hilary Clinton has launched an unheard, scathing and historical surgical strike on each other. While the rule of law will allow one to survive, America secretly wishing none do so that their nation can survive.
Also Read: Donald Trump Quotes on Women, Immigration, America & Politics! 
Thankfully amidst all bugle blown patriotism, we deep inside our hearts acknowledge the real heroes of our countries who are at the borders fighting or became a martyr for us.  If we really feel patriotic and wants something to be done, we need to look around for people who needs help and assist them.
N.B Nation's security comes first, but it comes at a price. The price that we do not pay, someone's family does and it is irrevocable.