Chakravartin Ashoka Samrat is an Indian TV serial based on the life of Ashoka the Great. Starting from the childhood, the show is covering all the tid-bits of Mahan Samrat Ashok. While the show is high on script, VFX and other elements, it is no less as far as the acting is concerned. It looks like Contiloe Productions have done quite an amazing job while selecting Chakravartin Ashoka Samrat Cast.
Here, let us check out the Chakravartin Ashoka Samrat Cast
Image Courtesy: @SiddharthNFans via Twitter
Siddharth Nigam as Ashoka
14 year old Siddharth Nigam is seen as Chakravartin Ashoka Samrat. The young Ashoka made his acting debut with Yash Raj Films' Dhoom 3 where he was seen as little Aamir Khan. Interestingly, this young lad is a national level gymnast perhaps that is why Late Shri Yash Chopra selected him to play the role of baby Aamir Khan in Dhoom 3. Quite fit, Siddharth also has a 6 pack ab (We are sure you must have seen them already!).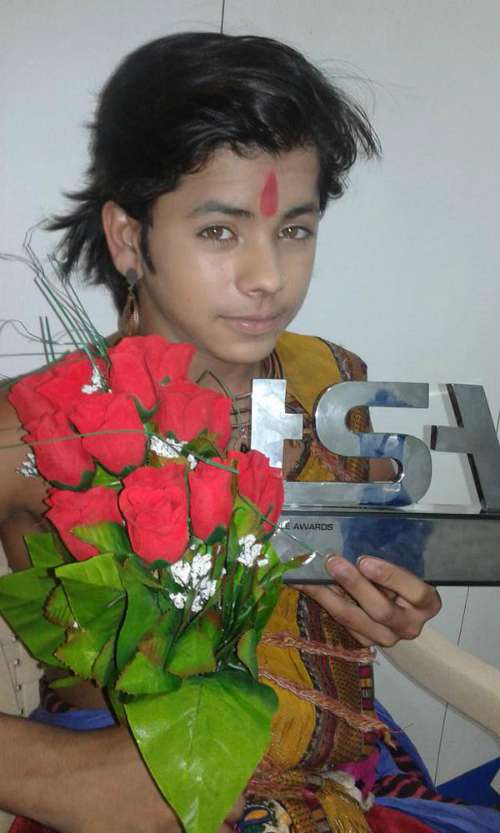 Image Courtesy: @siddnigam_off via Twitter
Before Dhoom 3, he was also seen in a Bournvita ad. Chakravartin Ashoka Samrat has already bagged him 2 awards including Best Debutant and Most Stylish Awards.
Read More: Interesting Facts about Siddharth Nigam aka Ashoka
Sumedh Mudgalkar as Sushim Maurya
18 year old super cute Sumedh Mudgalkar fondly called as Beat King is essaying the role of Sushim Maurya. While, he is hated for his onscreen character, he is loved off screen and has a tremendous fan following. The reason being, he has been the finalist in Dance Maharashta Dance as well as DID – 4.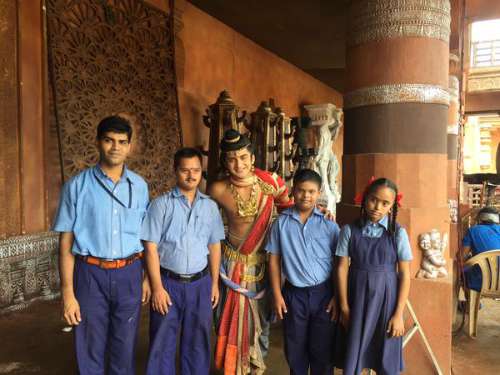 Image Courtesy: @Beatking_Sumedh via Twitter
What's amazing is the fact that Sumedh is not a trained dancer but a dancer born out of passion who learnt dance just by watching videos. He always aspired to become an actor. Sushim is his second role. Earlier, he was seen as Raghav in Channel V's Dil Dosti Dance.
Tunisha Sharma as Ahankara
Ahankara is the latest addition in the Chakravartin Ashoka Samrat cast. The role of Ahankara is essayed by Tunisha Sharma. Tunisha too is 18 year old. She made her TV debut as Chaand Kawar in Sony TV's Maharana Pratap serial which is also run by the same production house – Contiloe Productions.
Image Courtesy: @_tunisha_sharma via Twitter
Here in the serial she is shown as the daughter of Ujjaini raja. While, she was linked with Sushim in the start, it now looks like Ahankara will fall in love with Ashoka.
Read More:Will There Be Ahankara – Ashoka Love Story in Chakravartin Ashoka Samrat Serial?
Chakravartin Ashoka Samrat Cast – Manoj Joshi as Chanakya
A famous face in Bollywood, Manoj Joshi often comes around as a jovial figure in all the Hindi films. However, when it comes to theaters, he has been essaying the role of Chanakya from more than 15 years. And who else could essay the role of Chanakya so well in Colors Ashoka TV serial other than Manoj Joshi.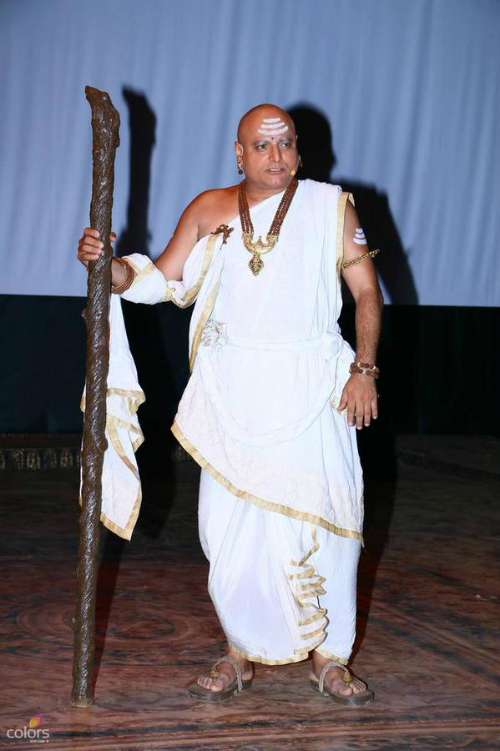 Image Courtesy: @Manoj_N_Joshi via Twitter
Sameer Dharmadhikari as Samrat Bindusar
Chakravartin Ashoka Samrat cast would have been incomplete without Sameer Dharmadhikari. Glad, that the makers of Ashoka TV serial decided to rope in Sameer Dharmadhikari as Samrat Bindusar.
Image Courtesy: @colorstv via Twitter
This is not his first historical serial. Earlier he was seen as King of Jhansi in Zee TV's Rani Lakshmi Bai, then as Maharaja Shantanu in Star Plus' Mahabharat followed by Buddha's father Raja Suddodhana in Buddha serial. No wonder, whenever there is a historical serial which demands a royal king, Sameer is in and he plays the role exceptionally well!
Read More: Life of Samrat Bindusara: Facts & History
Pallavi Subhash as Devi Dharma
Marathi model turned actress, Pallavi Subhash is playing the role of Ashoka's mother Devi Dharma aka Rani Subhadrangi. She debuted in Hindi TV serial with Tumhari Disha. Soon she was picked up by Ekta Kapoor and she was seen as Gauri in Karam Apna Apna.
Image Courtesy: @pallavisubhash via Twitter
Simultaneously, she also acted in several Marathi and Tamil films. However, she came under limelight after she essayed the role of Rukmini in Siddharth Kumar Tewary's Mahabharat. Here in the serial, her bond with her onscreen son Ashoka is something to watch for. She is Samrat Bindusar's love and second wife.
Prinal Oberoi as Maharani Charumitra
Prinal Oberoi is playing the role of the cunning and cruel Charumitra. Maharani Charumitra is Samrat Bindusar's first wife and has a son named Sushim. Her prime goal is to make her son Sushim the next king because she has insecurities from other queens especially Rani Noor.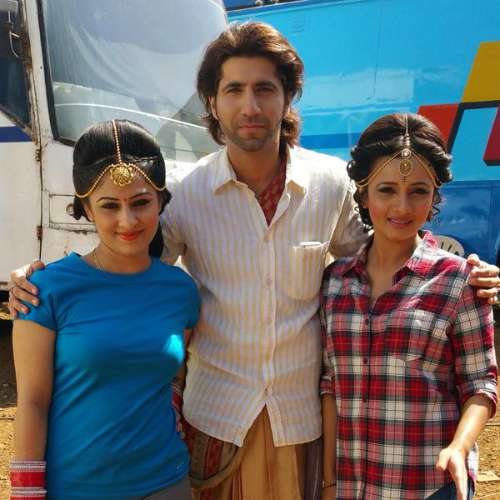 Image Courtesy: @prinaloberoi via Twitter
Before playing this role, Prinal was seen as Kaira in Rajshri Productions' Pyaar Ka Dard Hai Meetha Meetha Pyara Pyara. She was also seen as Ridhima in Season 1 of Naa Bole Tum Na Maine Kuch Kaha.
Ankita Sharma as Rani Noor
Ankita started her career as a supporting actress in Agle Janam Mohe Bitiya Hi Kijo serial. However, next she bagged a serial as a leading actress where she was casted opposite TV heartthrob Barun Sobti in Baat Hamari Pakki Hai. This serial brought her under limelight. She also did two other serials – Amrit Mathan where she played the role of Rajkumari Nimrit and Saware Sabke Sapne Preeto where she was seen as Preeto.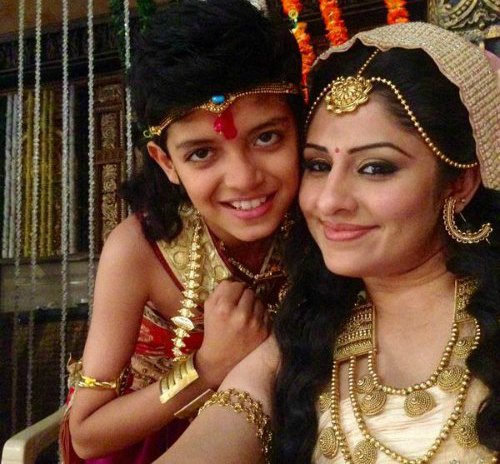 Here in the serial Ankita plays a Khorasni princess who marries Samrat Bindusar. However, when she realizes Samrat doesn't love her she falls for his elder brother Rajkumar Justin who is Chandragupta Maurya's son from HIS Greek wife Helena.
Read More: Rani Noor in Ashoka : 5 Facts You Need To Know
Sumit Kaul as Rajkumar Justin
Rajkumar Justin is the Indo-Greek uncle of Ashoka and Samrat Bindusar's step-brother. He is elder son of Chandragupta Maurya. He has always been an underdog dominated by his mother Helena who wants to fulfill her wish by seeing Rajkumar Justin as the next king. He loves Rani Noor and they too share an illicit relationship. They have a son together – Siamak.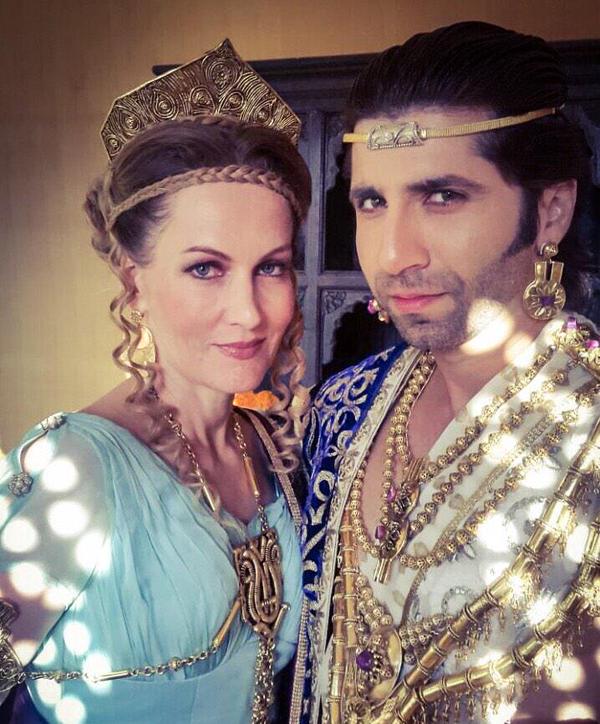 The role of Justin in Chakravatin Ashoka Samrat is played by Sumit Kaul. Earlier, he was seen as Salman in Vishal Bharadwaj's Haider starring Shahid Kapoor in titular role.
Read More:5 Reasons why we Love Rajkumar Justin in Ashoka Serial
Suzzane Bernert as Rajmata Helena
A German Born Suzzane Bernert has been working in Hindi TV serials from more than a decade now. In fact, whenever there is a need of a lady of foreign origin to portray a key role, Suzzane is approached. No wonder, she is a fabulous actor and is an excellent addition to the Chakravratin Ashoka Samrat cast.
Suzzane grabbed all the attention when she was seen in Kasauti Zindagi Kay as Mr. Bajaj's wife. Before t hat she played the role of Mistress Moreland in Rani Lakshmibai TV serial. She is married to Akhil Mishra, an actor famous for his role in 3 idiots. He is the Hindi teacher whose speech is manipulated by Aamir Khan.
Preet Kaur as Rani Subhrasi
Rani Subhrasi is the youngest and the last Queen of Samrat BIndusar. Though she is the youngest she is the most sorted of all the queens. While, Charumitra and Noor are selfish and cunning who think about only themselves, Rani Subhrasi is more like Devi Dharma.
Image Courtesy: @prinaloberoi via Twitter
The real name of Rani Subhrasi is Preet Kaur. She has done several serials including Ram Milaayi Jodi where she was seen as Sweety. Her husband in the serial Vishal Nayak is her real husband too.
Chakravartin Ashoka Samrat Cast : Vikrant Chaturvedi as Mir Khorasan
Mir Khorasan is the father of Noor Khorasan. He gave everything to Samrat Bindusar and became his senapati. In fact, his son even died while protecting Samrat Bindusar. However, he has an ambition and that ambition is to make his grandson Siamak as the heir of Samrat Bindusar.
The role of Mir Khorasan is essayed by Vikrant Chauturvedi. Earlier he was seen in Ekta Kapoor's Pavitra Rishta as Shirish Karmarker. He has also done Bollywood films including Sunny Deol's Gaddar and Subhash Chandra Bose.
MD Faizan Khan as Rajkumar Siamak
He thinks he is a Mauryavanshi but in reality he is not Bindusar's son but Justin and Rani Noor's son. This make him half Khorasani and half Greek. He is good natured Rajkumar but only time will tell whether he remains good or turns evil under the influence of all the evil people around him such as his mother Noor, grandfather Mir Khorasan and grandmother Rajmata Helena.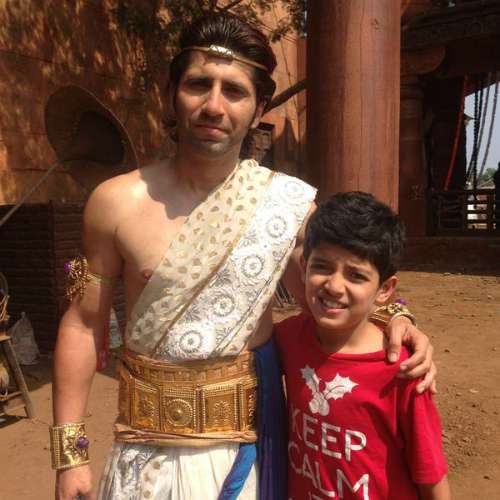 MD Faizan Khan is playing the role of Rajkumar Siamak in Chakravartin Ashoka Samrat serial. He has done many Bollywood films alongside top actors like Hrithik Roshan, Salman Khan and Ranveer Singh. He was Salman's son in Bodyguard, the boy whom Hrithik saves in Krrish 3 and also Kajol's son in Alpenliebe ad.
This was the list of Chakravatin Ashoka Samrat Cast. Who is your favorite character from the list?
Do Not Miss Reading:
Will Bindusar Ever Know that Siamak is Not His Son?
Bindusara Is the Father of Ashoka : When Will Chanakaya and Dharma Reveal The Truth?
Ashoka : Rajmata Helena Will Now Fight With Chanakya For Siamak's Right!
Editor's Note: NationalViews is a home for people with views and opinions that caters to the changing India. It is a place for the common men to articulate their views and opinions on any topic. A platform where you express and we publish. Mail us your opinion, views, and thoughts at editor@nationalviews.com and we will help you reach out to the masses.