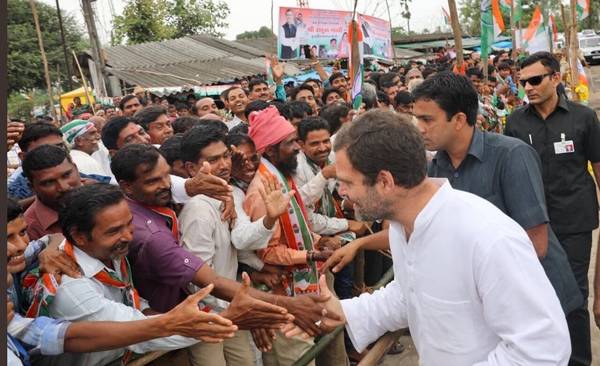 If you have been observing the renewed vigour both in Indian National Congress' social media account and it's Vice-President Rahul Gandhi's speech ahead of the Gujarat assembly elections, you'll notice an altogether new edge in the grand old party as well as in its leader who over the years have been ridiculed and criticised for his failure to communicate well with the electorate. The 47-year-old Gandhi scion is striking the right chord with his fiery speeches in Gujarat that involves a lot of intelligent humor and satirical comments after already impressing his audience in his recent US trip where he talked about policy issues, political dynasties, and social tensions.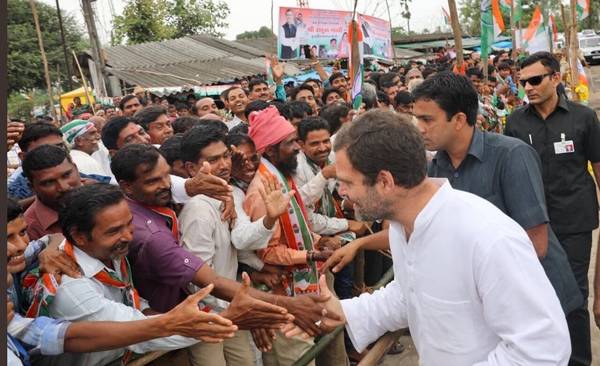 Now with the successful renewed attempts to revive the dwindling political fortunes of both Rahul Gandhi as well as the Indian National Congress, there is a high chance that the old grand party Congress can win Gujarat elections. And here we have reasons as to why –
Gujarat Assembly Elections 2017: Anti-incumbency Can Hurt BJP and Help Congress
In Gujarat, BJP has been in power from 1995 ever since Keshubhai Patel became the Chief Minister in the 9th Assembly elections. Post that until today, the Indian National Congress not even once got a chance to revive its position in the state. A lot of credit goes to BJP's Narendra Modi who could hold his chair right from 2001 till 2014 until he left the CM's chair in Gandhinagar to sit on the PM's chair in Delhi.
While, CM Narendra Modi's electorate was bowled by his administrative skills, appreciated his developmental model and even appeared convinced by his management, the same cannot be said post his exit from the state. Neither Andandiben proved to be a pragmatic leader nor Vijay Rupani is taken as the person who can carry the Modi legacy ahead.  This has given rise to a void in the state.
Moreover, the anger of the Patidar community and the Dalit unrest (remember Una incident) in the state which the BJP couldn't handle makes their battle a tad more difficult, unlike the earlier elections where things were easy, effortless and practically unproblematic. BJP's pain is definitely Congress' gain.
BJP कहती है की कोंग्रेस के नेता जनता पर राजनीति करने के लिए गुजरात आते हैं।अरे भाई BJP के नेता गुजरात में किसानी करने के लिए आते हैं ?

— Hardik Patel (@HardikPatel_) October 18, 2017
The Patidar and Dalit Factor: BJP's Discomfort Is Congress' Benefit
Patidar Anamat Andolan Samiti's leader and face of the Patidar community reservation Mr. Hardik Patel has already hinted that he might consider supporting Congress in the assembly elections with an aim to get the reservations for his community. Now that Mr. Patel welcomed Rahul Gandhi and even the Patidar community seem to have certain leaning towards Congress and Rahul Gandhi, looks like the Patidars are ready to try out the old grand party after 22 years.
राजकोट ज़िल्ले में आरक्षण और किसान क़र्ज़ा माफ़ी के साथ हज़ारों लोगों की जनसभा,सत्ता के ज़ोर में बहुत हुवा अत्याचार अब जनता करेंगी फ़ैसला !! pic.twitter.com/cVHcm7KPMb

— Hardik Patel (@HardikPatel_) October 14, 2017
गुजरात की 6 करोड़ जनता इस बार के चुनाव में ऐसे नतीजे लाएगी जिसकी किसी ने कल्पना भी नहीं की होगी ।।

— Hardik Patel (@HardikPatel_) October 15, 2017
कोंग्रेस के पास नेतृत्व नहीं है वो कैसे मान ले क्योंकि भाजपा के पास तो नेतृत्व है फिर क्यूँ आपके राष्ट्रीय नेता गुजरात के चक्कर लगा रहे हैं?

— Hardik Patel (@HardikPatel_) October 17, 2017
And yes, the support of the Patidar community does have the potential to upset the polling calculations of the saffron brigade in Narendra Modi's home turf.
Ahead of the Gujarat Elections 2017, Vikas Gando Thayo Che (Development Has Gone Berserk)
No matter what the central government is trying to convey the citizens about both, demonetization and GST, the common man especially small businessmen and farmers know how deliberately it has failed them. Now that Gujarat has a large business community and a substantial amount of them belong to the informal sector, the ill-effects of both demonetization and GST can impact greatly on the voter's sentiments.
Post the GST roll out, traders in Gujarat had increased their pitch in opposition. Unfortunately, when the cloth traders protested in Surat against GST on something completely tax-free earlier, the Gujarat Police used their batons against the traders. This incident is surely a matter of concern for both BJP and Narendra Modi in Gujarat.
#WATCH: Police baton charge on cloth traders in Surat, Gujarat who were protesting against #GST. pic.twitter.com/z3Sfj896PA

— ANI (@ANI) July 3, 2017
On the other hand, both, Rahul Gandhi and Congress, as opposed to earlier times, are trying not to miss out the chance. Currently, the team is not only showing BJP's ineffectiveness to uncertainties in Gujarat but also revealing facts and figures as opposed to the Gujarat model released and propagated by BJP. Comparing Human Development Index, Mortality rate, health indexes and other things, Congress successfully have been trying to convince the electorates to give them a chance to serve them once again
It was interesting to see how even the electorates recently joined the social media campaign #VikasGandoThayoChe (Development Has Gone Berserk) initiated by Congress by sharing real statistics and figures on development. These real figures from authentic sources shockingly revealed the other side of the developmental model that the BJP proclaims. Yes, the voters too want the shift from Jumla to Jimmewaari (responsibility).
गुजरात की जनता जानती है कि 'विकास क्यों पगला गया है'!

— Randeep S Surjewala (@rssurjewala) October 13, 2017
The Uttar Pradesh Example Can Give a Set Back to BJP in the Gujarat Assembly Elections 2017
The whole of India has been live spectators of everything wrong happening in Uttar Pradesh post the massive victory of Bhartiya Janata Party in the state right from choosing the Chief Ministerial candidate. People of Uttar Pradesh had voted for BJP in hopes of change and development, but unlike their promise, the party gave the voters a controversial Yogi Adityanath with a past that nobody wants to recall.
Unfortunately, they have not even kept their poll promises. Much to everybody's surprise, the farmers in Uttar Pradesh have got 1 paisa and 1 rupees in the name of loan waiver. Adityanath's home turf Gorakhpur too became national headlines post the chaos in BRD Medical hospital that saw the death of several kids due to mis-administration.
Interestingly, despite stressing to make UP a crime free state with huge concentration on Vikas (development), all the government and its ministers are doing is changing names of railway stations, blatantly busy in rhetoric by comparing health care of UP with Kerala (Yes, Adityanath recently did this!), and creating unnecessary controversies with regard to a monument (Taj Mahal). The recent episodes of gau rakshaks troubling both Dalits and Muslims in the BJP ruled state is again a concern for Gujarati Dalits who have already witnessed similar unrest in Una.
Additionally, with no influential leader currently present in Gujarat, this living UP example can ring a bell in voter's mind. This whole scene can surely give an advantage to Congress whose leader Rahul Gandhi is asking one chance from Gujarat. Besides, now that the Congress government in Punjab have been doing well comparatively (They have decided to waive farmers loan liability upto Rs. 2 lakh as promised in the manifesto as opposed to UP's Rs. 1 paisa and one rupees loan waiver), things look favourable for the party even in Gujarat as they give a certain hope to the voters.
The Elevating Winning Pattern of Indian National Congress in Local Body Gujarat Elections 2015
Although Congress has been whitewashed in Gujarat since 1995, the local body elections of 2015 (i.e. post the anointment of Narendra Modi as PM) has an interesting story to tell. As compared to 2010, Congress won more than double seats in Municipalities (587 as compared to earlier 392) and Zilla Parishad (472 as compared to 244), and more than 20% in the city corporation (124 as compared to earlier 100).
So, while, Congress won a total of 2102 seats superseding the earlier figure 1428, BJP won a total of 1718, showing a massive decline as opposed to its 2010 figure of 2460. If these figures can be set as a basis of voter's sentiments post the 2014 Lok Sabha election, there are enough chances for Indian National Congress to once again get into the long-lost turf.
What do you think, as a political observer or as a common man – Who can win Gujarat Assembly Elections and why?