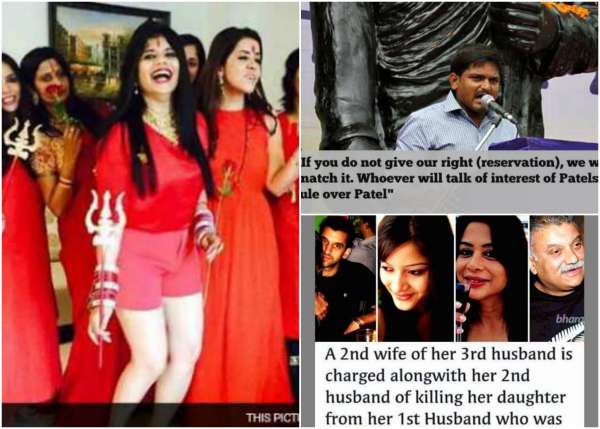 I read somewhere about dreams – You never know what's around the corner. It could be everything or it could be nothing. So this week was meant to be a dream week at the work place – given that the big bosses weren't around the corner, it was ideal time to explore and be a lil adventurous – relive the memoirs of the evergreen past of college days. 
Alas, happiness was only short-lived. Came along Monday and with it all my dreams came crashing down – Faster than the stock markets this week. There it flew out of the window, my hope of having a joyful ride. Probably, I had jinxed it, being over excited about it. And yes Chinese were not exactly responsible for it..
Came Tuesday, as depression warped me up, Indrani Mukerjea and Sheena Bora happened to our lives. Wow. Greater misery of others kind of gives us respite. News channel, Social media, Whatsapp was buzzing about it. Thinking of the plight of that young, beautiful girl, Sheena – I felt out of coma!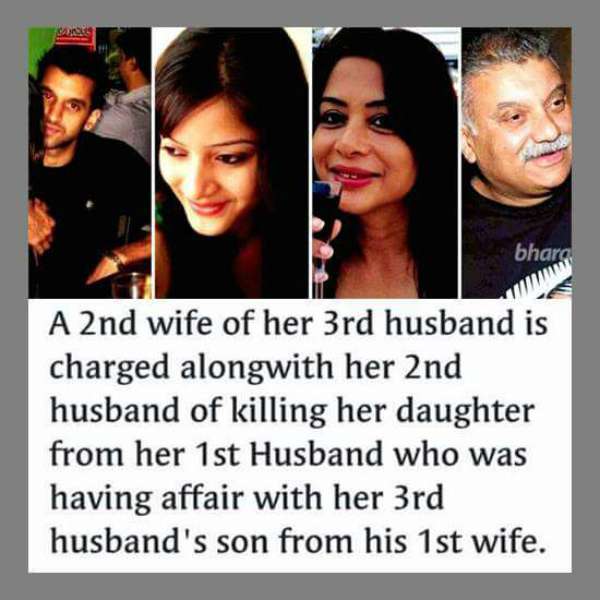 Image Courtesy: @KediaRaigarh, PTI via Twitter
Thanked God and Mom, a zillion times that she did not try to strangulate me on the days I was unreasonable or been an irritating child. Neither I had to face dilemma of introducing myself as someone else or juggle between multiple dads. Just one set of parents to deal with, who are just after my life for marriage. Rest I am alive and kicking, part of this banana republic, who celebrates everything with equal fervor be it a happy occasion or someone's tragedy.
Sheena apparently was murdered for having an affair with her supposedly step brother Rahul (Naam to suna hi hoga J) – and here my mother feels embarrassed that I am not having an affair. When I first read about Indrani, the bong in me cringed at the heinous crime committed by a fellow bong and then was secretly relieved to find Indrani Mukerjea was an Assamese.
Also See: Sheena Bora Murder: Know the Timeline, Facts & Indrani Mukerjea's Plan
For India, she is a North-Eastern. That's how we love to stereo type them just like we do South Indians- everything down Maharashtra is south. Over the years, having friends from Thrissur, Chennai, Bangalore or Mangalore, my awareness levels match the required sensibilities. Talking of Mangalore, their girls are very pretty and instant crush. If I don't mention their guys are smart, my friend might get offended. Haha.
Coming to Sheena Bora Murder Case, it is inconsequential from where Indrani Mukerjea came from but the complexity and cold-bloodedness is definitely worth a mention. The new low is, as a society we seem to celebrate Indrani than despise her.
The shock factor has conveniently turned into an entertainment factor – with channels running it as a Hollywood Thriller (mark the excitement in the voice of news anchor as if they are scripting a screenplay) and we lapping it up as yet another episode of Game of Thrones, as suggested by friend. All our thoughts culminated in the hash tag of twitter, which is more powerful today than the Bramhastra.
Talking of entertainment, how one can forget Radhe Maa – the lady who gifted us piousness wrapped in red saree and a red rose, in not so pious times. The color of her red and thorns in the rose seems to match the blood-galore of our times. She has also given a new lease of life to our social butterflies – which recently brought the house down with a Radhe- Maa theme party.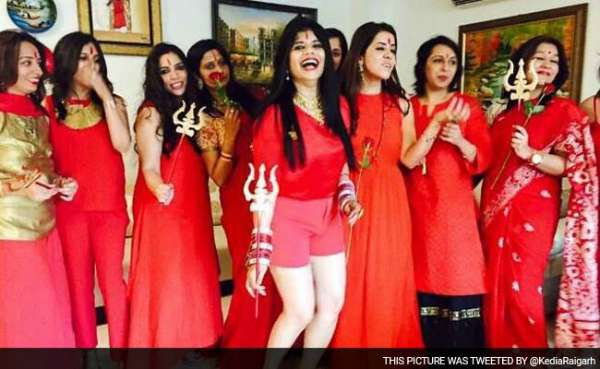 Image Source: @KediaRaigarh, PTI via Twitter
She was the toast of our Media friends, who was feeling demented after recently given a royal, ignore by Modi Govt. on Sushma Swaraj issue and more recently Indo-Pak NSA Meet. The amount of grief that media expressed on the cancellation of the meet made me wonder- if the meet was to boost TRP of media channels or please United States. As in no ways Indo-Pak talk would have made any headway – given India will not give up on Kashmir and Pakistan will not give up on terrorism.
Radhe Maa no saint by herself seemed unperturbed by the attention she got. In her own style, she outwitted her critics. Inspired by her probably, another joker from Gujarat stood tall this week, and create unwanted ruckus in the name of Patel Reservation.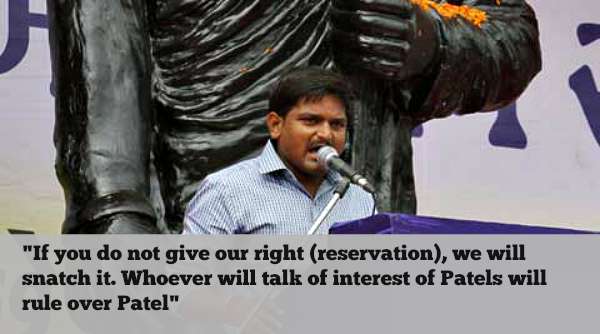 The supposedly hope of Media and opposition parties, Hardik Patel, started off with a bang but little did he knew that he will be out-smarted by multiple bang bang of Indrani Mukerjea. Talking about reservations, on advice of my friend, I speed-dialled my parents, to find out if Kumars, can be warranted a reservation or traced back to some OBC Category (given it has shelter to so many surname less families) and we can also start out own protests for some personal benefits. Was confident that likes of Akshay Kumar, joining our bandwagon after being marginalised by the Khans and then by the intelligence of his wife, Mrs. Funny bones, who is blessed with a twinkle in her brain.
Also See: 7 Challenging Statements by Hardik Patel That Has Shocked the BJP Government
Being General in India is worse than Being Human. If you escape being crushed under the wheels, there is no escapade from being crushed under the quota system. Pappu also seem to have exhausted his quota of visiting Dalit's home, hence he expressed desire to visit LOC this week – perhaps he was bored of Parliament and wanted to experiment with adventure sports across international border ( may be was missing Bangkok). Talking of LOC, if one voice needs to be heard – that's of our Jawans about OROP. Only time I feel social obligation should take precedence over financial calculations.
Amidst all fiasco, some good news for sports fan with Saina becoming No.1 in badminton and India winning the test match against tearful adieu to Srilankan legend Sangakkara. Talking about match –match of words between Bhakts and Adarsh Liberals is streaming live all the time on Twitter, our permanent source of fun.
Talking of fun, my heart aches on my unfulfilled plans, as I survive another week, with hope that we will execute our grand plan one afternoon, in some week. And we live on till then. Live to take selfies and mock anything and everything that comes our way.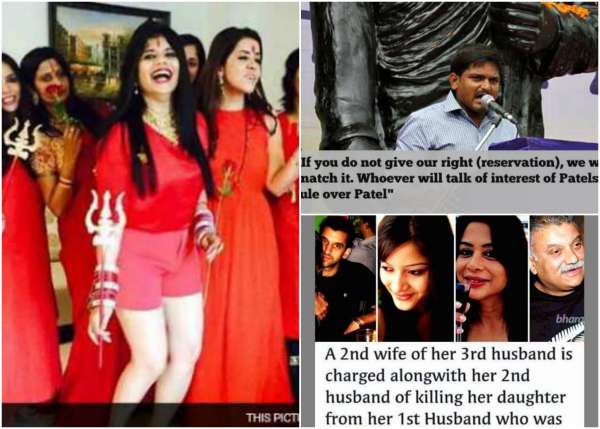 Image Courtesy: Image Source: @KediaRaigarh, PTI via Twitter, Pic 2
By the way, Happy Rakshabandhan Girls, while the guys vow to protect you this day, we are equals right?? – So you too have to protect us – from any bias or stereotype. Not every guy is a stalker or eve-teaser. Do us a favor- stop sharing such posts without verifying – because the guy you shame wrongly is perhaps someone's innocent brother. That reminds me of the infamous Jasleen Kaur Case this week! It's also time to call our mother's and thank them for not putting us to solve logical test question on our family tree.
A little bit of sheen on humanity has withered away with Sheena. Maybe we owe her a small prayer and a good life, thereafter.
Do Not Miss Reading:
Sheena Bora Murder: Know the Timeline, Facts & Indrani Mukherjea's Plan
Suhel Seth on Indrani Mukerjea: Facts, Funny Memes And Jokes You Shouldn't Miss!
Who is Jasleen Kaur? Why Is She Trending? Is She a Hero or Another Rohtak Sister?