By Tamojit Tripathy, Department of Public Administration, Utkal University, Odisha
(The article is revamped by Prof. Sanmay Rath, Black Panther Skills Trainer Govt. Projects, Odisha)

The constitution of India dispenses the power to the people of India as India is a democratic nation, and so far the largest democratic nation. So, what is the basis that decides whether the country can be called a democratic country or not. Well, where the people have the power to enthrone and/or dethrone the government.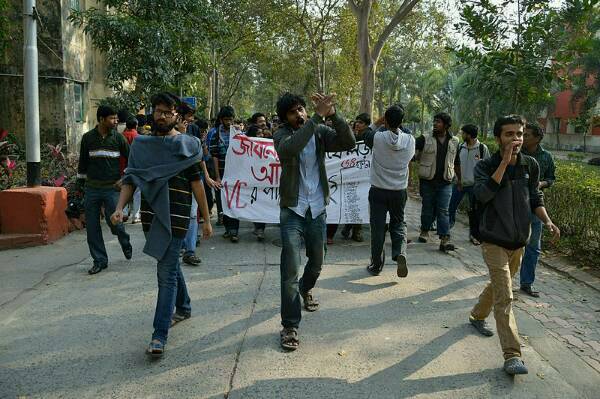 So, democracy is the process of electing leaders 'by the people' which eliminates the chances of insurrection by people and definitely a demagogue. Therefore in my purview, the oppositions have the power to reprimand only the policies of the government and can't reprimand the persons who are elected by the people. However, that definitely doesn't mean that elected candidate has the monopoly and don't have any threshold. If any particular policy of a govt. is malign for the interests of the 125 crores of people then the oppositions have the sheer right to go against, and their voices cannot be stifled or strangulated.

Now the youth of India have broader role in democracy because half of the youth are the voters who can decide the destiny of any particular leader or govt. irrespective of which political parties they belong to. Besides, the government's motto is to placate or satiate the youth not only by amending the norms to rehabilitate them to their parties but also it is the duty of the govt. to execute some more youth welfare schemes for making them self-reliance.
The youth are the key to the success of the nation. They are to be taught how to usher for the country for its success. It should be an onus for each and every political party. After all, their duty is not just to sow poisonous seeds in their minds against each other, but also to help and support them to achieve the objectives of both the party as well as the country in a transparent, ethical, rational and effective manner.
In the following section, we'll discuss the political parties in depth and their role to promote the youth of India.
Political Parties & Young Brigade of India: Indian National Congress
First of all, I would like to adduce some procedures of mother of all political parties i.e. The Indian National Congress (INC) in respect to promoting students and youth. INC has a student wing called National Students Union of India (NSUI) and Youth Wing called Indian Youth Congress (IYC). There is a process of Election in both of the wings which is definitely a good initiative but submitting membership fees and nomination fees is definitely a lacuna for the persons who don't have any pecuniary stability.
The high command of the party pretends that there is an electoral process in selection of the suitable candidate in the party but in real sense the candidates are either the crony of a high-command or the financiers of the party or the subaltern persons whom they think will work according to their tunes and will always be loyal to them. It is totally detrimental.
In those elections there is a provision in the wings for the women, minorities, SCs & STs. We often notice veteran Congress leaders castigate Narendra Modi as a 'Chaiwala'. Come on Yaar! It's a democracy not an aristocracy, monarchy or dictatorship.
8 Reasons Why Indian National Congress Must Cease to Exist Now
In a democracy a so called Chaiwala has the same political right compared to others.The party that which believes in democracy in their internal election shouldn't utter words which sound so undemocratic. Some leaders even called him a CM turned PM. But if we examine the facts he became CM from grassroot level and that is enough to inspire the youth of India to join politics.
Political Parties & Young Brigade of India: AAP
Next, I would like to throw some light on Aam Aadmi Party (AAP) and its Student's wing CYSS (Chhatra Yuva Sangharsh Samiti). When AAP party was formed, there was a notion that it is a party which will definitely eradicate the orthodox in politics. It was believed that AAP will revamp, rejuvenate and bring out renaissance in political system of India.
Surgical Strikes: An Open Letter to Arvind Kejriwal & Co. By a Professor
Many young people even resigned from their jobs to join AAP. No wonder, the party then had a different impression as it pretended that 'transparency' and 'clean politics' was it's main motto. But as days went by people slowly got to know about the power-hankering intent of Arvind Kejriwal. He asserted that his party was definitely not like Congress, BJP or others. But then he too joined in the brigade in Bihar Elections by supporting the Grand Alliance between Congress, JDU and RJD. What a U-Turn! The person who loathed about Lalu Prasad Yadav and Congress indirectly supported both of them. Besides, Lalu Prasad Yadav is disqualified from politics by the apex court of India!
Did Kejriwal think about those youth, masses who relinquished their jobs to join him? Certainly not! Perhaps if they would have known that Kejriwal who promised to change the political system will be eventually changed by bloody politics, they would have never joined him. This emphasizes how the youth were propelled by the fallacies of the crocodile's cry of this vociferous Kejriwal whose only work nowadays is to abuse Modiji on Twitter.
Bihar Election: Arvind Kejriwal Twitter Trolls You Shouldn't Miss!
Political Parties & Young Brigade of India: BJP
Now I would like to say something about the Bharatiya Janata Party (BJP) and its student wing Akhil Bharatiya Vidyarthi Parishad (ABVP) and BJYM (Bharatiya Janata Yuva Morcha). However, BJP members will definitely contradict that by assuring you that BJP has no relations with ABVP, Rashtriya Swayamsevak Sangh (RSS), and Vishwa Hindu Parishad (VHP). But if there is no relation then why BJP recommends candidates both MLA and MP having backgrounds with these organisations in elections?
It is a general notion that If you don't work with RSS,VHP, ABVP and don't reprimand congress then you can't acquire the party ticket from BJP. Addressing style of some MPs of BJP in parliament gives the charging order of it. Every time we listen the words of some leaders of BJP and all they repeat is, 'Congress ne 60 saal tak raj kiya Bharat mein'. Again If people have mandated for it then how dare you to say like that!
Further democracy is the will of the people, not the will of any one person or party. PM Modi addressing the people once said 'aap logon ne Congress ko 60saal diya hai, mujhe 60 mahina do'. These words are worth appreciating as it sounds more democratic than others. However, at the same time I would definitely not want to endorse their idea of 'Congress Mukt Bharat'. After all the sacrifices done by it's leaders like Mahatma Gandhi and other members for making India independent can't be ignored.
Political Parties & Young Brigade of India: Communist Party of India
Now I want to discuss about the All India Students Federation(AISF) which is the student wing of Communist Party of India(CPI). Some of you may already like and support Student President of JNU, Mr Kanhaiya Kumar. Personally, I don't know 'who will provide what to him' to distort the minds of the youth.He asserted that the country won't change by the daily tweets of our PM. My simple question to him is, Will the country change by chanting Pakistan Zindabad?
'Bramhanwad se azadi' he told but now-a-days which govt. promotes Brahminism & where Brahmins get preference amongst the Dalits in govt.schemes? If we give out the slogan 'Bharat ki barbadi tak jung chalegi' will the country change? If we use our fundamental rights (Article 19,freedom of speech) in blatant manner will our country change? He delivered a statement that our army raped Kashmiri women but we all know what our army is capable of and without them what will be the situation for us.
Know How Comrade Kanhaiya Kumar Is Manipulating The People Of India!
So, Mr.Kumar if all army personals will take a leave for a day, your wish 'Pakistan Zindabad' will definitely be fulfilled. Now since it is my first article, I don't want to emphasize more about you. No wonder, you are the person who is under a trial of sedition charges (Section 124A of the Indian Penal Code) & so I don't want to botch up my writing by expounding about you.  
But before I conclude let me tell you, we are the educated  and energetic youth of India. We should rather examine who is right or who is wrong by our vision, foresight and equanimity. But yes we have to admit that there is a drastic change between the 1980's youth & the 21st century youth of India.
I want to say something in this regard-

"Mera desh badal raha hai,
Mera desh aage badh raha hai,
Kal tak joh yuvah cinema aur cricket dekhta rehta tha
Woh aaj sansad ka adhivesan dekh raha he".

Now the choice is ours, whether we would prefer to become a terrorist like Burhan Wani or a Civil Servant like Shah Faisal or perhaps an army personnel like Sandip Unnikrishnan.